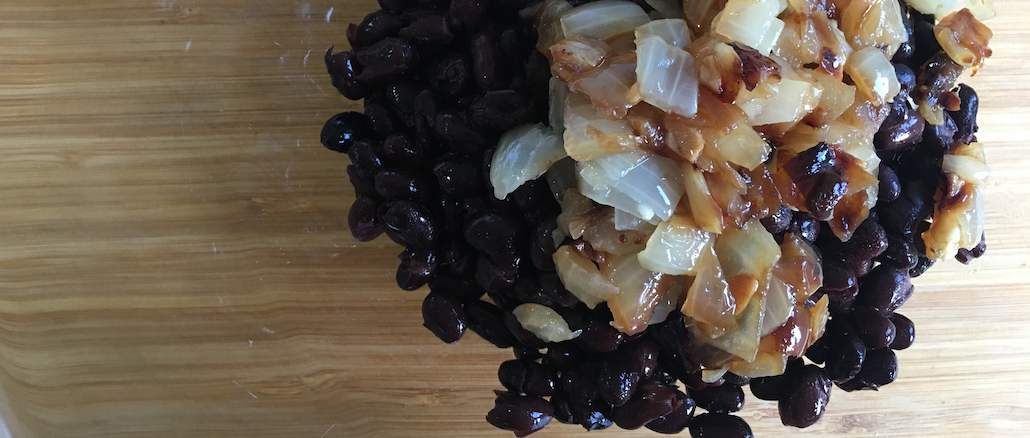 Recipes with Refried Beans
Commit to the #halfcuphabit – one half cup of beans (about 200g) every day. Make a batch of Spicy Black Beans on Sunday and you have a whole week of quick and easy recipes with refried beans.
Taquitos
Roll black beans in small corn tortillas to make a shape like a fat cigar.  Bake at 180C fan until brown and crispy.  Smother or dip in guacamole. You can also wrap these (once cooked and cooled) in foil for a pack lunch. They will still be warm or room temperature and delicious at lunchtime.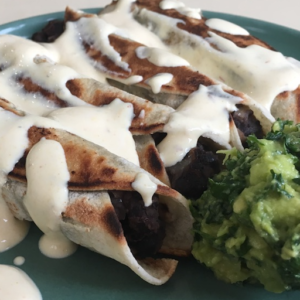 Vegetable Tacos
BBQ or roast a medley of vegetables (e.g. aubergine, spring onion, red and yellow peppers) – make sure they get a little bit black for that smokey taste. Warm black beans in the microwave. Warm flour tortilla as package directs. Pile black beans, vegetables in the wrap, dollop guacamole, soured cream and fresh tomato salsa.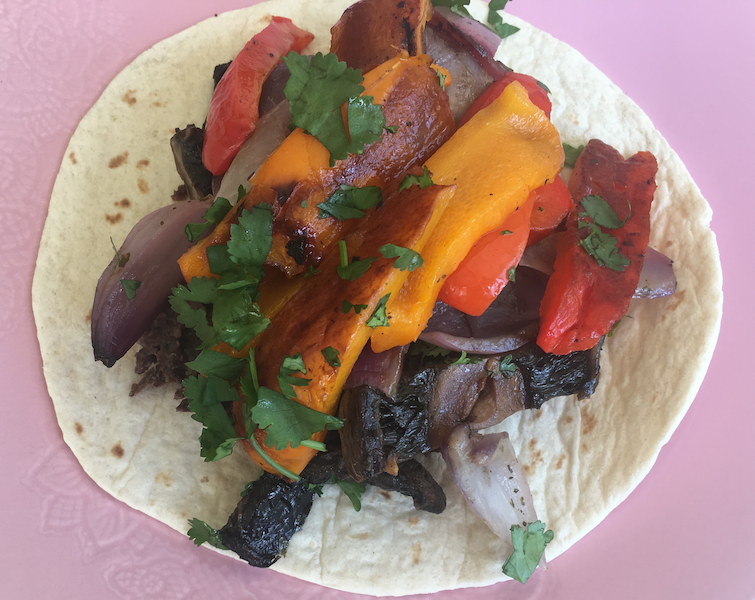 Enchiladas
Black bean enchiladas with our homemade enchilada sauce. The sauce is worth the extra 15 minutes. It is super easy and delicious. We love this recipe in winter when you really need something hot to fill you up.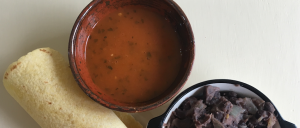 Black Bean Burgers & Sweet Potatoes
Roast Sweet Potatoes as per recipe. In a frying pan, heat a tablespoon of vegetable oil to nearly smoking.  Add in 4 tablespoons of black beans per person and shape into a 'burger'.  Turn the heat down and let the black beans cook through.  Flip once.  Don't worry if they get a bit dry – just don't burn them.  Cover with guacamole, sour cream & fresh tomato salsa.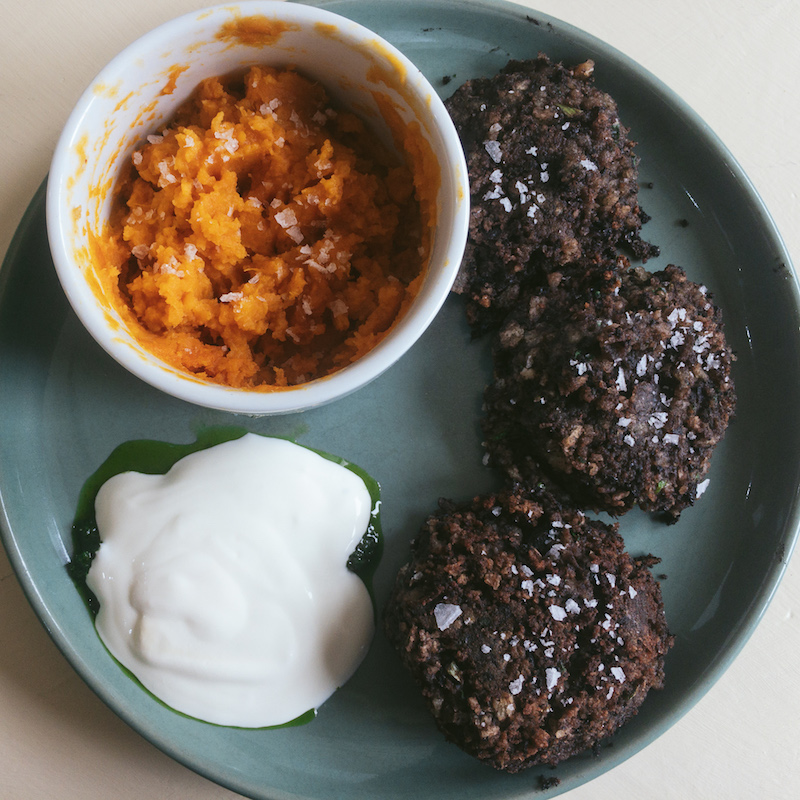 Tostada
Re-heat beans in the microwave.  Fry a corn tortilla in vegetable oil until crispy (about two minutes each side).  Top with black beans, guacamole, sour cream & fresh tomato salsa.
Black bean 'Falafel'
Mix the make ahead black beans with breadcrumbs to get a solid ball. Deep or shallow fry until crispy on outside and warmed through. Serve in a wrap with the standard toppings.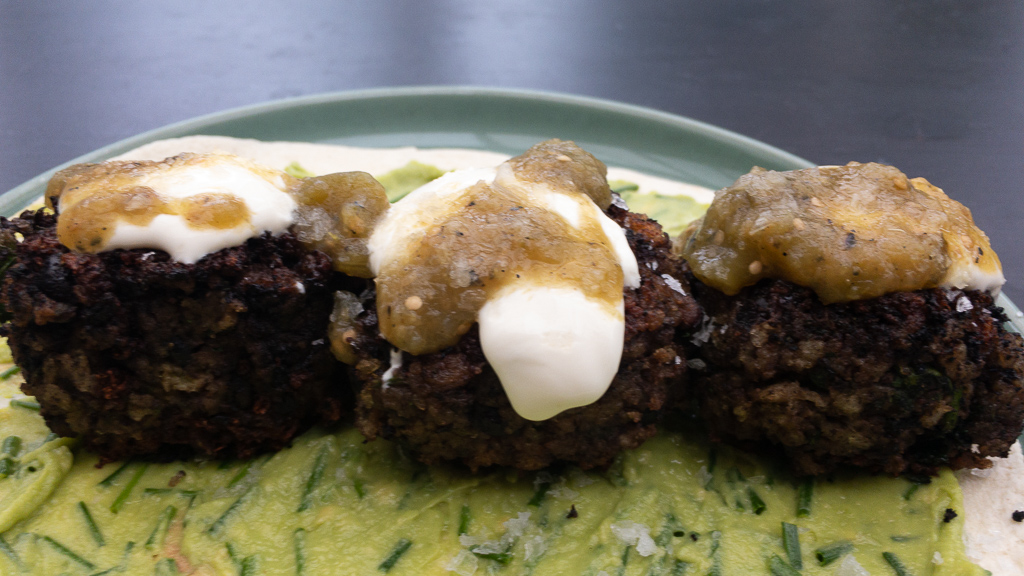 TexMex Breakfast Burrito
The TexMex Breakfast Burrito pairs Spicy Black Beans with scrambled eggs spiced with a teaspoon of shaata and wrapped up with heart-healthy guacamole. 10 minutes to a hot, filling breakfast.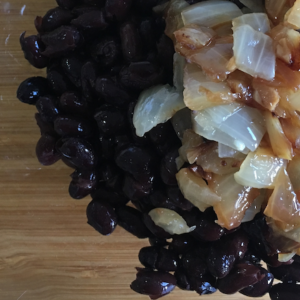 Spicy Black Beans
Make a batch of Spicy Black Beans on Sunday and you have a whole week of quick and easy TexMex dinners. Taquitos, tostadas, tacos, burger and enchiladas.
Ingredients
2

large

onions

, white, peeled and small dice

1

tablespoon

olive oil

2

birdseye chilis

1

clove

garlic

, peeled, smashed and minced

5

cans

black beans

, drained
Instructions
In a medium fry pan, add the olive oil and heat to medium.

Spread the diced onions in a layer in the frying pan.

Cover, turn down the heat and slow cook the onions until they are translucent.

Stir often so the onions don't burn. Don't rush the onions. If they take 30 minutes or more it is no worries. The slower they cook the sweeter they get.

Meanwhile, prep the birdseye chili. This step is up to you. You can put it in the onions whole and remove before mashing (mild). For spicy, remove the stem and carefully dice – tipping in the seeds and all.

Once the onions have been on the heat for about 10 minutes, stir in the garlic and chili. Put the lid back on and let it all slow cook.

Drain the canned beans.

In a large bowl, put one can of the drained beans. Add half of the onion mixture and mash (or whizz with a stick blender). This helps the beans all stick together for things like burgers and tacos.

Carefully stir in the remaining 4 cans of drained beans and the rest of the onion mixture. Cool to room temperature then cover with plastic wrap and keep in fridge until ready to use.
Notes
NOTE: I don't salt my beans until I am using them. For example, in enchiladas, the sauce is salty enough. In taquitos, I salt before rolling into cigars. Just do what feels right for you.