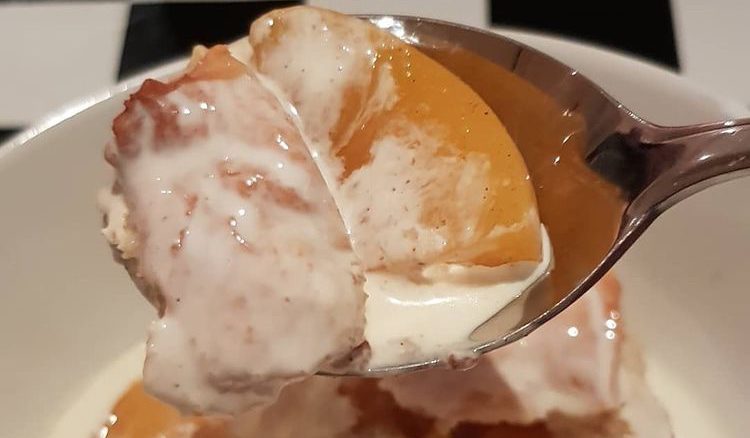 Peach Cobbler v Peach Pie
Peach cobbler was invented to be a simple alternative to "fussy" peach pie. A peach pie recipe has many hazards – pastry, blind baking, soggy bottom, etc. A peach cobbler is effective fail proof and is a great way to deliver a delicious dessert with minimal effort.
Easy Peach Cobbler Recipe
Our fresh Georgia Peach Cobbler tops stewed fruit with a scone-like dough for a quick and delicious fruit dessert. It is one of our best cobbler recipes.
This cobbler shouldn't be confused with its cousins the crumble and the fruit crisp. To be pedantic, our recipe is a "slump" straight out of the South as we used our favourite recipe from my aunt in Kentucky. A "slump" is a cobbler that doesn't have a uniform shape. It "slumps" as it is placed on the plate.
We serve this with clotted cream but ice cream or whipped cream is also a good choice. We aren't fans of custard but, if you are, that too is a nice partner to peach cobbler.
Fruit Cobblers
The fruit for cobbler is your choice – the most well known is, of course, peach cobbler but we also love nectarines and brown sugar.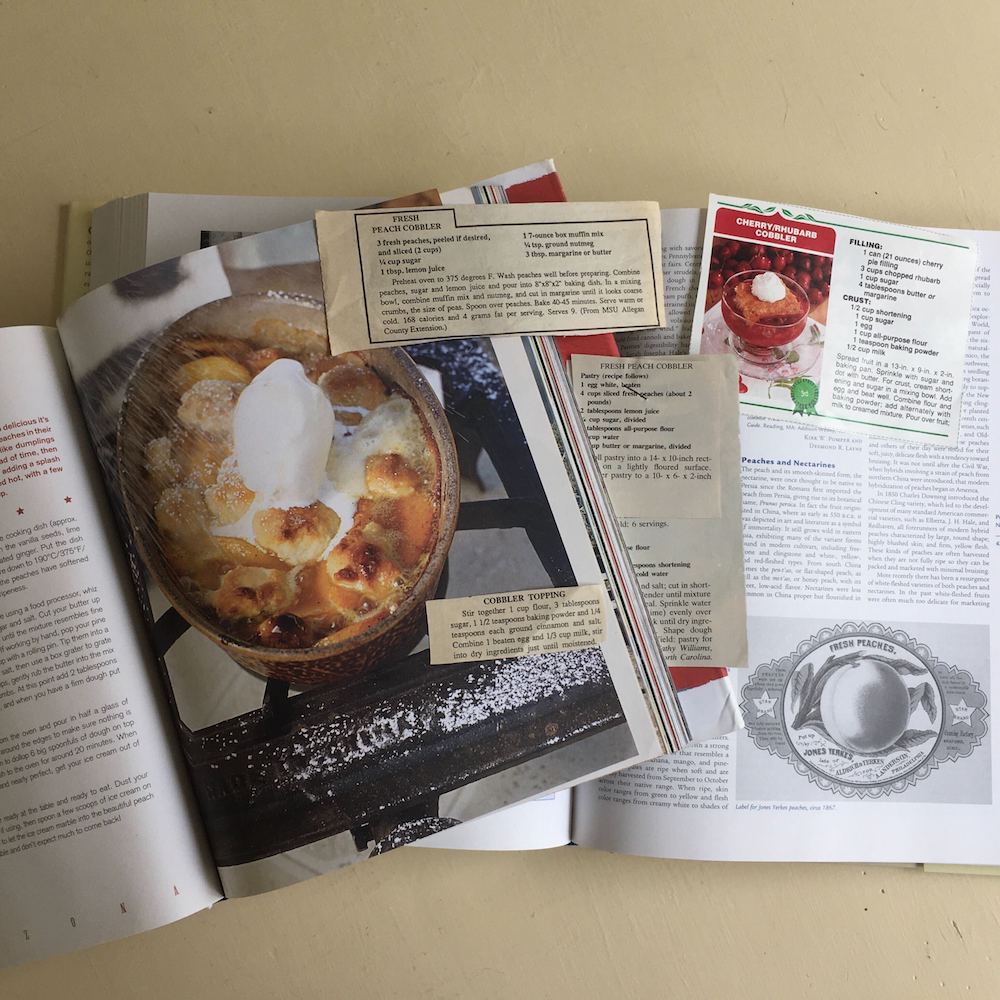 You can do rhubarb and strawberry, peach, blueberry, raspberry or cherry. You can even use canned pie filling if you need something quick.
If you are using fresh fruit – like cherry or rhubarb – just add a bit of water and sugar and cook your fruit down to a lumpy syrup before topping and baking.
Best Fruit Cobbler Recipes around the UK
Here is a quick round-up of some alternative recipes to help you find what just what you are looking for.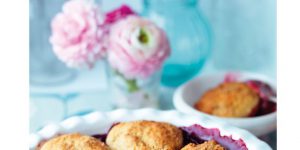 Cherry Cobbler, Good Housekeeping Magazine
Tinned cherries make this recipe very quick.
Read Now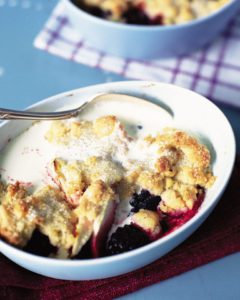 Pear and blackberry cobbler, delicious magazine
Half crumble, half a pie. Always delicious.
Read Now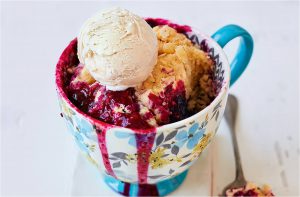 Blueberry Cobbler, Tesco
A quick microwave recipe that makes a delicious dessert for one.
Read Now
Our Inspiration
Huge thanks to Josh at FoodForThought.uk for asking for this recipe. He was specifically looking for cobbler and we hadn't posted a recipe yet. So, please give a nod to Josh.
Peach Pie!
Also, our friend Chris was our recipe tester and his son the chief reviewer. He's five and is pretty sure that this is a peach pie. 🙂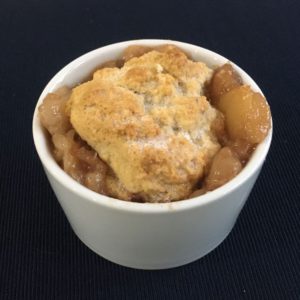 Georgia Peach Cobbler
Georgia Peach Cobbler, however, any fruit will work with this recipe. Nectarines, plums, rhubarb or strawberries. Super easy fruit dessert.
Ingredients
Fruit Filling
6

peaches

100

grams

caster sugar

1

teaspoon

ground cinnamon
Instructions
Peaches
Peel, stone and roughly chop over a bowl making sure you catch all of the juice.

Mix the cinnamon and sugar into the fruit
Cobbler Topping
In a small bowl, mix together the flour, baking powder and sugar.

Mix in butter using your hands to make a fine crumb.

Stir in the milk and egg to form a sticky dough.

Spoon the dough in lumps over the fruit.
Bake & Serve
Bake for about 20 minutes. Turn once to ensure an even brown bake.

It's done when the fruit is soft and the biscuit dough is brown.

Serve warm with quality vanilla ice cream (or custard, if that's your preference).