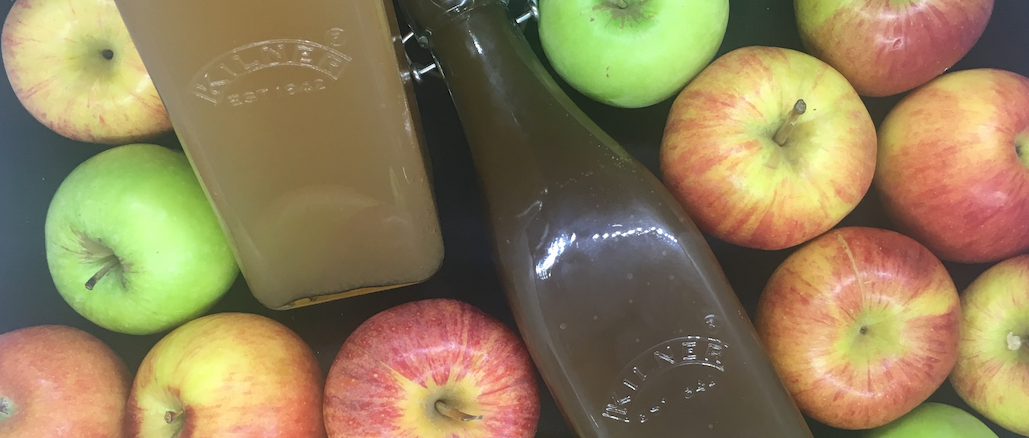 American Apple Cider Recipe (No Alcohol)
Every autumn we would have our family Apple Orchard Day at our local pick-your-own apple farm to stock up for our various apple recipes. Our easy apple cider recipe recreates those days.
Many people ask us how to make American apple cider at home. Of course, American apple cider is really a spiced apple juice – not the alcohol cider we are used to in the UK.
We've tried a lot of variants and settled on this UK apple cider recipe. No special equipment is required – just a lot of patience – to create delicious apple cider. This homemade cinnamon apple cider is delicious hot or cold and is a special treat for Halloween or Guy Fawkes.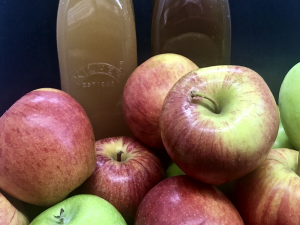 Spiced Apple Juice & Baked Apple Donuts
Homemade cinnamon apple cider and baked apple donuts make a delicious weekend cooking project with the family. Start the apple cider on Saturday afternoon. Bottle it up Sunday morning and then make Baked Apple Donuts for a Sunday afternoon treat. The pulp from the cider can be used for the apple in the donuts. Delicious and no waste!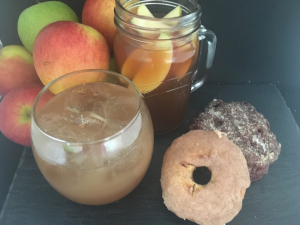 How to make Apple Cider at Home
Some people use a crockpot (i.e. slow cooker) but we look for easy recipes and we used a big stove pot. We made 2 litres of homemade cinnamon apple cider so double the recipe if you are serving this as a party or for a larger group. Follow the easy apple cider recipe below store in sterilised pretty Kilner bottles in the fridge and you'll have this delicious autumn treat ready for any expected or unexpected guests.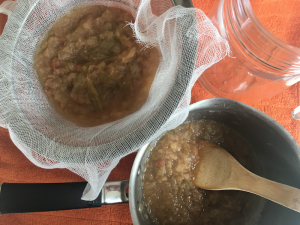 Best British Apples for American Apple Cider
We used a variety of apples for our homemade apple cider to give it the best flavour. You will see in the photos we have a light and dark version. The only difference is the amount of spice we added to the mix. Experiment with different apple varieties until you find one you like the best. We used 4 Granny Smiths (for tart), 4 Jazz (which is a cross between Braeburn and Royal Gala) and 4 Royal Galas because of the hint of vanilla that occurs naturally in this variety of apple.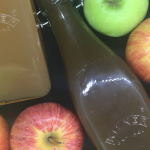 Ingredients
Cider Ingredients
12

medium

apples

water

2

sticks

cinnamon

12

whole

cloves

25

grams

dark brown muscovado sugar

25

grams

light brown muscovado sugar
Equipment
1

very large

pot with lid

preferably 3 litre capacity

1

fine mesh strainer

cheesecloth

string
Directions
First, make your bouquet of spices. This will make them easier to fish out later.

Lay a bit of cheesecloth on a flat surface and put the cinnamon and cloves in the middle of the cheesecloth.

Pull the four sides of the cheesecloth together and tie with string.

Core the apples and cut into eighths. No need to peel the apples.

Place the apples in the large pot and add water until just covered.

Add light and dark brown sugars to the pot and the bouquet of spices.

Bring to the boil.

Simmer for 4 hours.

With a potato masher, mash the apples.

Leave on low for at least 8 hours, preferably overnight.

Remove spice bouquet and bring cider to a boil.

Reduce by 1/3 then strain.

To strain the apple cider, place cheesecloth over the mesh strainer and slowly pour in the cider.

We strained ours into a Pyrex measuring jug to make it easy to pour into bottle later.

Using a wooden spoon, press the apple pulp to get all of the lovely cider out.

Let cool and pour into Kilner bottles for storage.
To Serve – Hot
Heat the apple cider in a small pan on the hob.

Place slices of apple, orange and cinnamon sticks into heat proof mugs.

Pour the hot cider onto the fruit and serve.
To Serve – Cold
Place slices of apple, orange and ice cubes into a glass.

Pour chilled apple cider over the fruit and ice.
Equipment
Kilner Storage Bottles

Mason Jar Glasses
NOTES
TIP:  We used 4 Granny Smiths, 4 Jazz and 4 Royal Galas apples in our recipe but any type of apple makes great cider.
TIP:  Adjust the spices according to how light or dark you would like the cider. Our light batch is no spices, 25g light brown sugar and 25g caster sugar.  The dark batch is as written above.