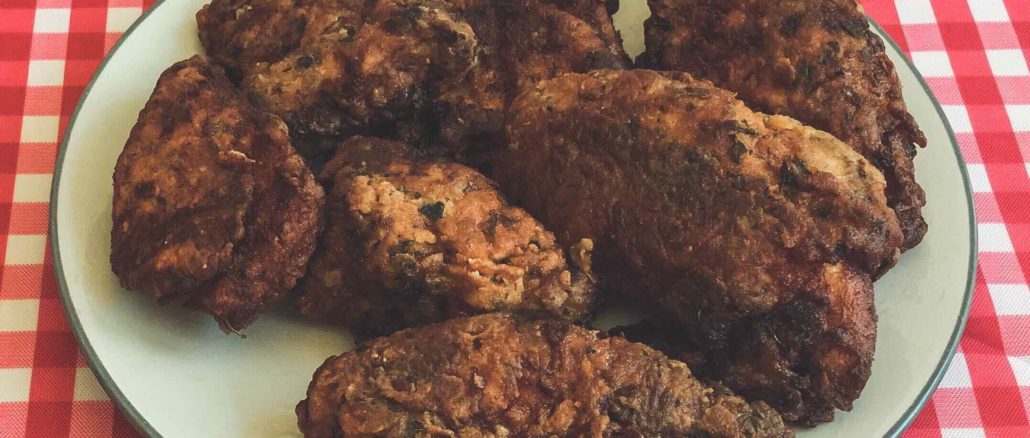 Southern Fried Chicken Recipe
American Southern Fried Chicken is one of our best Sunday lunch recipes that can turn into a whole week of easy mid-week dinners. A great recipe for batch cooking and plan ahead meals. Keep reading to find out how we use this one recipe to create five different meals or jump directly to the recipe and get cooking!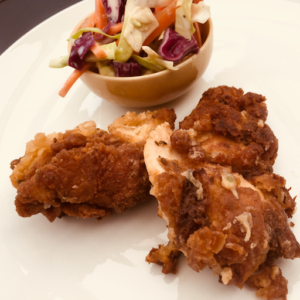 American Fried Chicken Recipe
Sunday Lunch was regularly a Fried Chicken Dinner and was always a minimum of eight people when I was growing up. Grandma, Grandpa and some combination of their 4 children and spouses, 10 grandchildren and 13 great-grandchildren. It was mostly chaos.
The men would be setting up extra tables and chairs, finding the extension leaf for the main dining table, kids running all over the place and Aunt Marcia in control in the kitchen. Even when it wasn't her house, she was directing the kitchen. Having grown up in Kentucky, she was the Queen of Southern Fried Chicken and the kitchen foreman.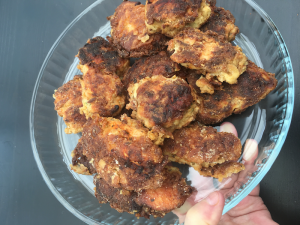 Everything would be ready on the buffet table – creamy mashed potatoes with sour cream and chives, macaroni & cheese, spicy corn – just waiting for the hot chicken to be delivered. There is no way to describe how the smell of fried chicken can take you back to that exact moment of seeing Aunt Marcia carrying a huge serving plate of fried chicken and how, 30 years later, that smell can evoke feelings of safety, love and community.
Picnic Fried Chicken Recipe
Fried chicken is delicious cold or room temperature which makes it great for a picnic. Pack a cooler with chicken and coleslaw. Big paper plates and lots of napkins.
Spicy Fried Chicken Sandwich
A spicy fried chicken sandwich is a lunchtime treat.  I don't use this for pack lunch though because it is so delicious when fresh. Top tip: buy high-quality brioche buns.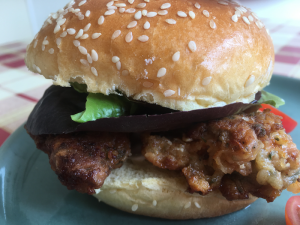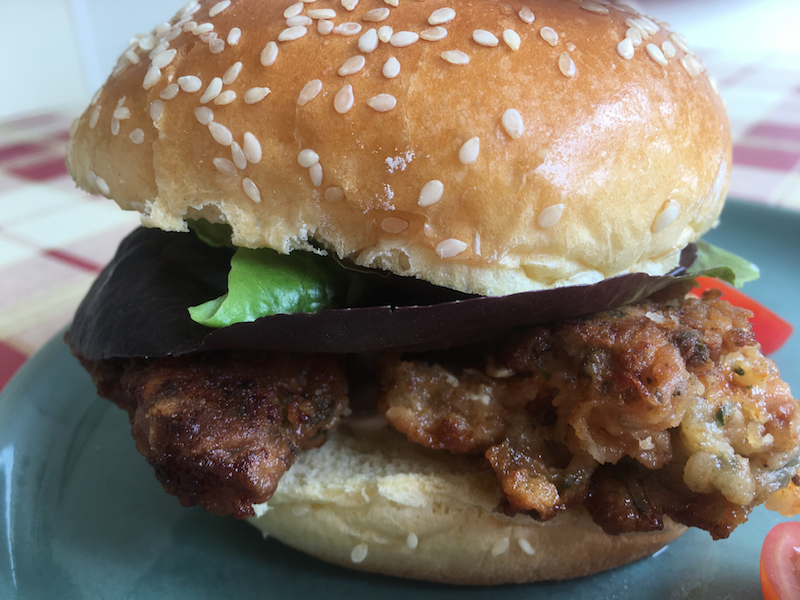 When used in a sandwich, I make Spicy Fried Chicken with a little extra cayenne kick. Cut chicken breasts to fit in the bun. Usually, I cut the breast to size for the bun and then trim to have chicken strips for later in the week.
Cook the chicken the to recipe below. Stack chicken with lettuce and tomato slices and slather the bun with high-quality mayonnaise. Serve with crisps, fries, sweet potato fries, coleslaw or succotash.
Southern Fried Chicken Dippers & BBQ Sauce
Chicken dippers are perfect for mid-week quick dinner or a kids lunchbox. Cut chicken breast into strips. Cook the chicken as directed below. Chill thoroughly.
Eat cold with your fingers for a midnight snack. For a quick mid-week dinner, zap the chicken in the microwave for 1 minute and serve with salad and veg. For a lunch box, pack in a container. In all cases, dip in our American-style Sweet & Spicy BBQ sauce.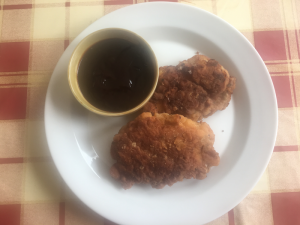 Southern Fried Chicken Salad
When I know I have a busy week coming up, I will make extra fried chicken on Sunday plus a batch of Tangy Tomato salad dressing. Mealtime is then five minutes of prep – open a bag of salad leaves, scatter them on a plate, top with cherry tomatoes, red pepper strips, spicy fried chicken strips and drizzle with dressing – presto! Also, a great romantic picnic for two.

What? No Buttermilk? Shallow Fry?
Yep. Apologies to the purists!  I make my spicy southern fried chicken with greek yoghurt instead of buttermilk. No reason other than I always have Greek yoghurt to hand. (One of my favourite things for breakfast is fresh fruit topped with Greek yoghurt and granola.)
Because I use boneless, skinless chicken breasts and they cook quite quickly so I prefer to shallow fry. Plus I don't have a deep fat fryer but I do have a Judge Professional deep saute pan that I bought about 15 years ago and, next to my Kitchenaid Mixer, is one the best purchases I've ever made. It is perfect for Spicy Fried Chicken and cleanup is a breeze!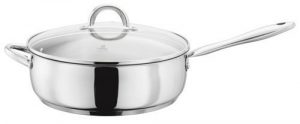 American Southern Fried Chicken Nostalgia
In 2007, Kris Kristofferson played Glastonbury and he sang Sunday Morning Coming Down. Sunday Morning Coming Down is one of the songs Kris Kristofferson wrote that was made famous by Johnny Cash. The lyrics are the essence of where Southern Fried Chicken fits into the collective nostalgia of America:
"Then I crossed the empty street and caught the Sunday smell of someone fryin' chicken
And it took me back to somethin', that I'd lost somehow somewhere along the way"
It might sound crazy but fried chicken tastes better when made with The Very Best of Johnny Cash playing in the background.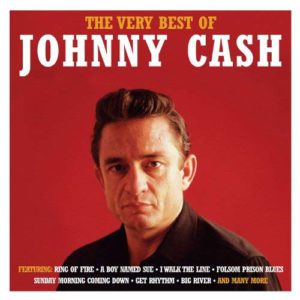 Patience, patience, patience
Southern Fried Chicken takes a while to perfect – so don't get frustrated if it takes a few tries before you get it right. Once you get the knack, though, you'll never go to KFC again!
SaveSave
SaveSave
SaveSave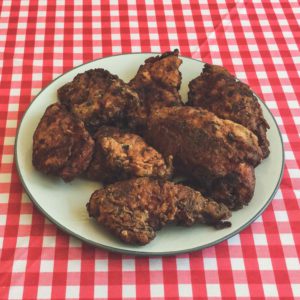 Southern Fried Chicken
Southern Fried Chicken is perfect for Sunday Lunch with leftovers for easy mid-week meals.
Equipment
Deep saute pan

Glass mixing bowl
Ingredients
Seasoning
1/2

teaspoon

cayenne pepper

double if you are making "spicy fried chicken"

1

teaspoon

dried garlic

1

teaspoon

dried parsley

1/2

teaspoon

dried thyme

1

teaspoon

salt

1/2

teaspoon

black pepper

1/2

teaspoon

white pepper

add more black pepper if you don't have white pepper
Chicken
4

medium

chicken breasts

cut to size desired or any other chicken portions you would like – thighs, drumsticks, wings, etc.
Coat & Fry
1

large

egg

100

grams

Greek Yogurt

250

grams

plain flour

1

pinch

Maldon Sea Salt

250

ml

vegetable oil

25

grams

garlic butter
Equipment
deep frying pan

I love my Judge Saute Pan 28 cm for this recipe

long tongs
Instructions
Marinate the Chicken
Mix the spices together in a small bowl.

In a shallow dish, arrange the chicken in one layer.

Sprinkle both sides of the chicken with the spice mixture.

Cover and marinate overnight until you are ready to fry.
Frying Chicken
In a shallow plate (I use a pie dish – the sides are just high enough), mix the flour and salt. Set aside.

In a bowl, scramble the egg and mix with greek yogurt. Add a splash of milk or water to thin just slightly. Set aside.

Put the pan on the hob and heat the vegetable oil. When you toss in a bread cube and it sizzles, you are ready.

Double coat the chicken by individually dipping each piece in egg, then flour, then egg, then flour.

Place the coated chicken in the hot oil.

Fill the pan with chicken in a circular shape so that you know when each piece went in the pan. I start at 6 and work my way around the outside of the pan and then a circle inside the pan.

Once you have all of the chicken in the pan, turn the heat down to medium. Cook for 3 – 5 minutes.

Always check the FIRST piece of chicken you put in. Using the tongs, carefully lift up the chicken piece and ensure that it isn't burning. When it is nice and brown, flip over.

Then carefully flip each piece of chicken in the order it was added to the pan.

ONLY EVER TURN THE CHICKEN OVER ONCE.

Multiple turns will disrupt the breading.

It will take 6 – 7 minutes per side to fry the chicken. Cut one piece in half to check that it is done inside (that's the chef's portion!)

Dot the butter around the pan and swirl it over and around the chicken to add a bit of extra flavour.

Remove the chicken pieces and drain on kitchen paper.

Serve with sides and sauces as desired.