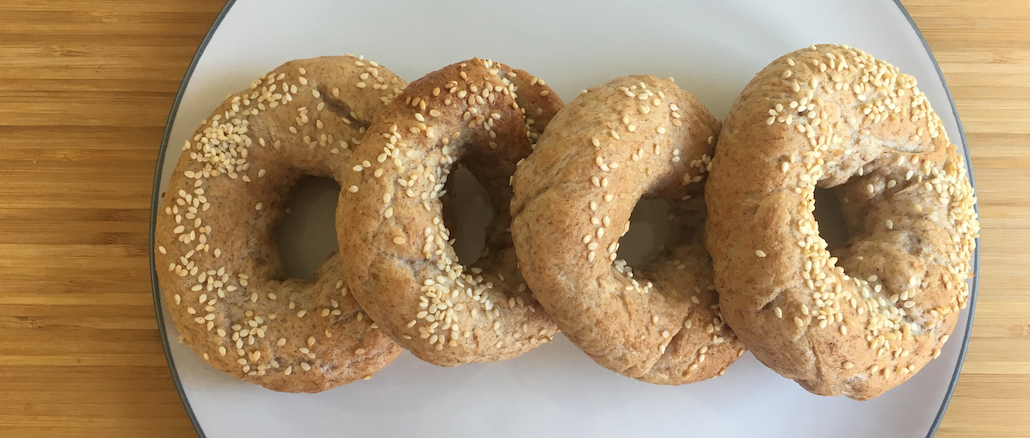 How to Make Bagels
Lovely, chewy homemade bagels. New York City is famous for them and now you can make them at home in the UK with this easy and adaptable recipe. This recipe makes 8 bagels and they have no preservatives so you need to gobble them up quickly.
How to Shape Bagels
If you've never shaped bagels before, Mel's kitchen has a brilliant step-by-step guide.
American Bagel Recipe Tips
The secret to good bagels is in the boiling.  I use two minutes per side but the longer you boil them, the chewier they get so make these two or three times to adapt them to your preferences.
I use half white and half wholemeal because it makes me feel like they are healthier but you can do all white or all whole just make sure you use strong bread flour and not plain flour.
Toppings for Bagels
As for toppings, this recipe is sesame seed but you can sprinkle on poppy seeds, pumpkin seeds, dried garlic, dried onion (or any combination of these).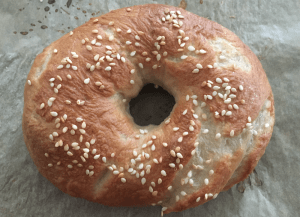 Homemade Bagel Recipe with Cinnamon & Raisin
For cinnamon and raisin, add 2 teaspoons of cinnamon and add to the dough before kneading.  Soak two handfuls of raisins in hot water to soften them and fold in before letting the dough rise.
Best Bagel Toppings
Lurpak Butter
JIF peanut butter & Banana (Just like Elvis!)
Sliced Cheese and Red Onion Chutney
Sliced Honey Roast Ham, Spinach and Cream Cheese
2 slices of back bacon, 1 fried egg and either mayo or butter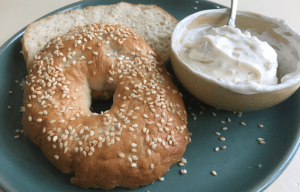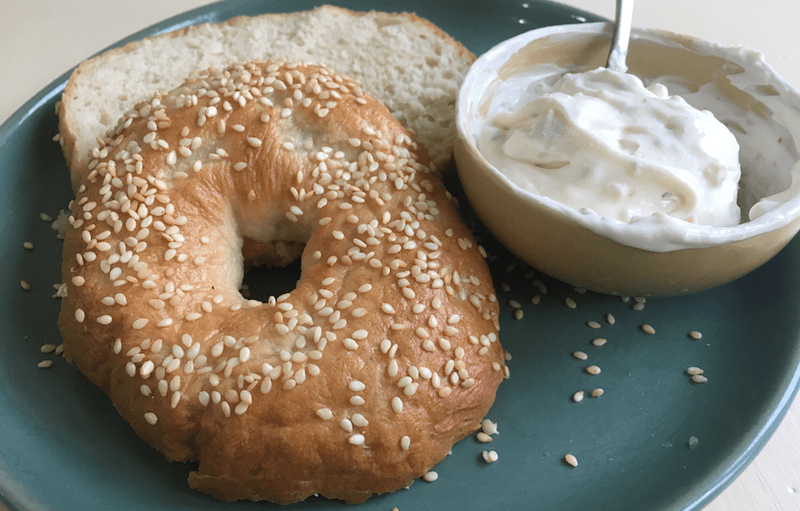 A NOTE ABOUT JIF PEANUT BUTTER
Every time I mention Jif Peanut Butter to someone in the UK, I get a look of disgust. For many years, the Cif brand cleaner was named Jif and there is a strong connection between the name Jif and cleaning products.  However, Jif Peanut Butter is a very special treat and it is exciting to see it on shelves in the UK.  Try our Peanut Butter Cookies and No-Bake Cookies which are both special with Jif peanut butter.
SaveSave
SaveSaveSaveSave
SaveSave
SaveSave
SaveSaveSaveSave
SaveSave
SaveSave
SaveSave
SaveSave
SaveSave
SaveSave
SaveSave
SaveSave
SaveSave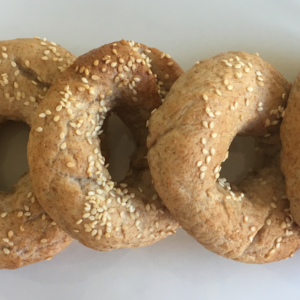 American New York Bagels
Lovely, chewy bagels. New York City is famous for them and now you can make them at home in the UK with this easy and adaptable recipe. 
Equipment
KitchenAid Stand Mixer

KitchenAid Mixer Dough Hook

Silicone Pastry Brush
Ingredients
Bagel Dough
7

grams

dried yeast

1

tablespoon

sugar

150

ml

water

150

ml

milk

250

grams

strong white bread flour

250

grams

strong wholemeal bread flour

1

teaspoon

salt

free flowing table salt
Finishing
2

tablespoons

plain flour

for rolling and shaping

2

tablespoons

milk

for brushing on bagels

10

grams

sesame seeds

for sprinkling on the bagels
Instructions
Prepare
Fit the Kitchenaid mixer with the dough hook.

In the Kitchenaid mixer bowl, bring 150 ml milk and 150 ml water to warm - that is, when you put your finger in it is neither hot nor cold. It should be about body temperature.
Make the Dough
Add 7g (1 sachet) yeast to the mixer bowl along with the sugar.

Let the yeast foam for about 10 minutes while you weigh out the flours.

When the yeast foams, put the bowl on the mixer and turn mixer on lowest setting.

Add the flours one tablespoon at a time and incorporate into the liquid.

Add the salt.

Turn mixer up to 2 and knead the dough for about 15 minutes.

Cover bowl with cling film and let dough rise for about an hour in a warm place. It should double in size.
Shape & Bake Bagels
Knock back the bagel dough and let it rest for 10 minutes.

Boil the water in the large pot and line the baking sheets with parchment.

Pour milk into small bowl and get out sesame seeds and the pastry brush.

Turn oven to 200C (fan).

Cut the dough into 8 equal pieces.

Shape each piece into a ball.

With floured thumbs, push a whole in the middle of the bagel and shape.

Put 1 bagel in the boiling water (must be done one at a time so they don't stick). Boil for 2 minutes, turn with wooden spoon and boil for two minutes on the other side.

Lift bagel 1 out of the water, place on baking sheet and repeat step above for bagel 2.

Repeat until 4 bagels have been boiled.

Whilst bagel 5 is boiling, brush milk on the first batch of bagels and sprinkle generously with sesame seeds.

Place in a hot oven for 10 - 15 minutes depending on how brown you like your bagels. (In my case, my fan oven is a little uneven so I have to turn them at 8 minutes for even colour.)

Continue boiling the remaining bagels until the second baking sheet is ready for the oven.

Remove first batch when browned and set aside to cool.

It will take about an hour of after shaping just for the boiling, brushing, topping and baking.