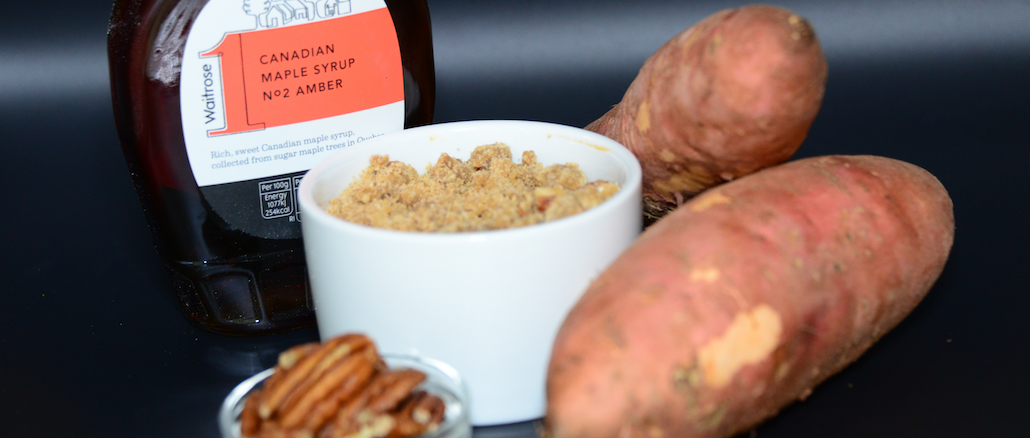 Marshmallow with sweet potatoes, although tradition for American Thanksgiving, is just too much for Brits to get their heads around. Instead, we use maple syrup and pecan crumble topping to flavour our American sweet potato casserole.
Sweet potatoes are quite rich so a little goes a long way. A 9×9 size sweet potato casserole can easily feed 8 people.  We often make these in mini-ramekins to help with portion control.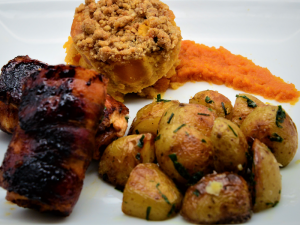 Our top tip: serve EITHER pecan sweet potatoes or pumpkin pie but not both.  The taste is too similar. However, these sweet potatoes cut through the salty Bacon Wrapped Turkey in our Thanksgiving menu.
Our inspiration for this recipe is this scrap of paper in Aunt M's recipe box. Anyone even remember these old notepads that you used to keep by the phone for taking messages?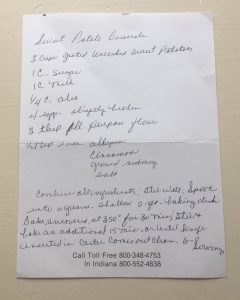 SaveSave
SaveSaveSaveSave
SaveSave
SaveSave
SaveSave

Peel, dice and boil the sweet potatoes until soft. Let drain for a minimum of 1 hour, preferably 4 hours.

Note: You can stop here and put the cooked sweet potatoes in the fridge overnight if you are cooking these as part of a feast.

Mix sweet potatoes with sugar, maple syrup, salt, eggs and butter in a mixer for 2 minutes until fluffy.

Spoon mixture into 9x9 pan.

Make the praline topping by combining flour, brown sugar, pecans and butter until combined and the mixture is crumbly.

Sprinkle the crumble over sweet potatoes.

Bake at 170C fan for 30 minutes.