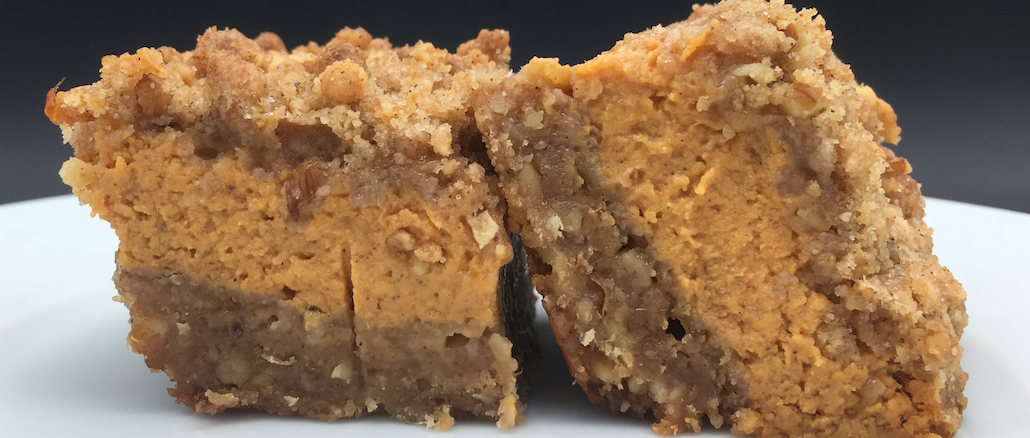 American Pumpkin Pie Recipe (UK)
American Pumpkin Pie Bars baked as a traybake are an easy and delicious alternative pumpkin pie recipe. Pumpkin Pie Spice Mix is a must-have for this recipe and we recommend making a batch from our recipe each autumn. Bake, cool, slice and serve. If you love this recipe, check out our entire Thanksgiving Feast cookbook.
We use Libby's canned pumpkin in our pumpkin pie recipe. Libby's is available at Ocado, Waitrose & Partners, Sainbury's and other major supermarkets.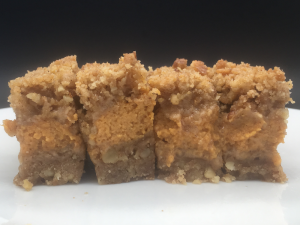 Graveyard Pumpkin Pie Traybake Bites
For Halloween, we made this traybake pumpkin pie recipe and cut them into squares. The kids created headstones with standard popsicle sticks. Just push into the firm, chilled pumpkin bars and then serve as a graveyard. Get your pumpkin bite before the ghosts get you!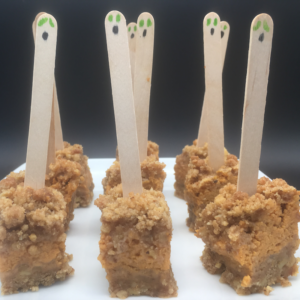 How to Make American Pumpkin Pie (UK Recipe)
Traditionally, Pumpkin Pie is made with a slightly sweetened shortcrust pastry. We find that these bars with the walnuts and cinnamon surrounding the pumpkin custard taste better than traditional pumpkin pie. Plus there is no blind baking, soggy bottoms or shrinkage which are all risks when working with pastry.  To make this a more traditional Pumpkin Pie, use a round pie plate and press the crumble in the base and up the sides of the pie plate. Do not reserve any of the crumb mixture for a crumble topping.  Bake until the custard is set. Let cool, slice and serve with whip cream.

SaveSave
SaveSave
SaveSave
SaveSave
SaveSave
SaveSave
SaveSaveSaveSave
SaveSave
SaveSave
SaveSave
SaveSave
SaveSave
SaveSave
In a medium bowl, combine flour, walnuts, both sugars and cinnamon.

Melt butter and add to mix. Stir until crumbly.

Reserve about 1/3 of the mixture.

Pat remaining mixture into the bottom of an ungreased 13x9-inch baking tin. (If making a pie, press into bottom and sides of 9-inch pie tin and use all of the crumb base.)

Chill whilst making pumpkin custard.
In a stand mixer fitted with a paddle, combine pumpkin puree, sweetened condensed milk, eggs, cinnamon, vanilla extract, pumpkin spice mix and salt; mix well.

Pour evenly over chilled crust.
Mix reserved crumb base with additional flour.

Sprinkle over pumpkin mixture.
Bake 30 to 35 minutes until the custard is set.

Cool 10 minutes. Serve warm or at room temperature.

Store leftovers in the refrigerator.