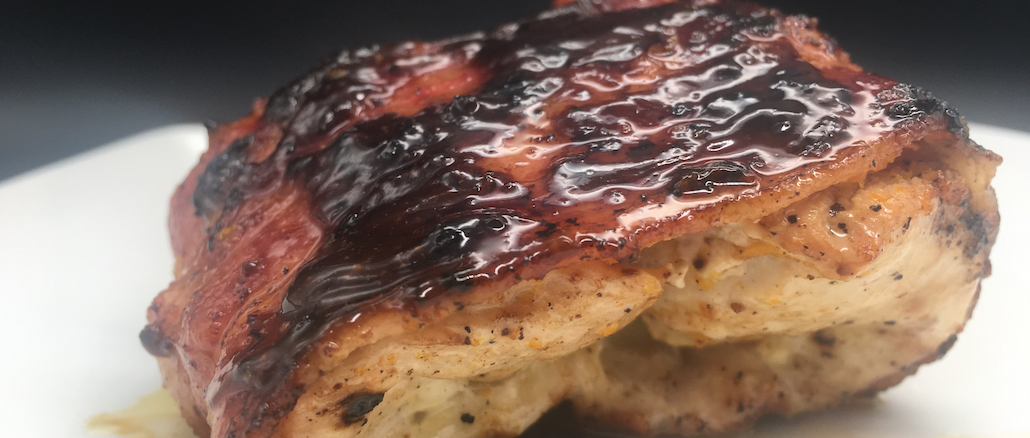 Thanksgiving is all about the sides which means my oven isn't big enough for all of that AND a turkey.  Therefore, I make bacon wrapped turkey on the hob.
Not only does this free up space for Cornbread Stuffing Muffins and Pecan Sweet Potatoes but also tastes better than a roast turkey. A mix of oranges, butter, maple syrup and streaky bacon make this a WOW main dish that is sweet, salty and juicy.  Perfect for Thanksgiving or Christmas.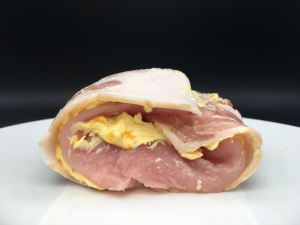 SaveSave
SaveSave
SaveSave
SaveSave
SaveSave
SaveSave
SaveSave
SaveSave
SaveSave
SaveSave

Spread the orange butter on the turkey and roll up each turkey escalope.

Heat olive oil in a large, non-stick fry pan that has a lid.

Place rolled bacon turkey in the pan in one layer. Cover with orange slices.

Cook on low heat until turkey is cooked through.

Uncover the pan, remove and discard the orange slices.

Turn heat to medium to crisp the bacon. Turn as required to crisp the bacon.
Melt the butter and mix with maple syrup.

Pour glaze over cooked turkey. With the heat on medium, continually spoon the glaze over the turkey until thick and coating the meat.

Turn off the heat and let meat rest at least 5 minutes before serving.