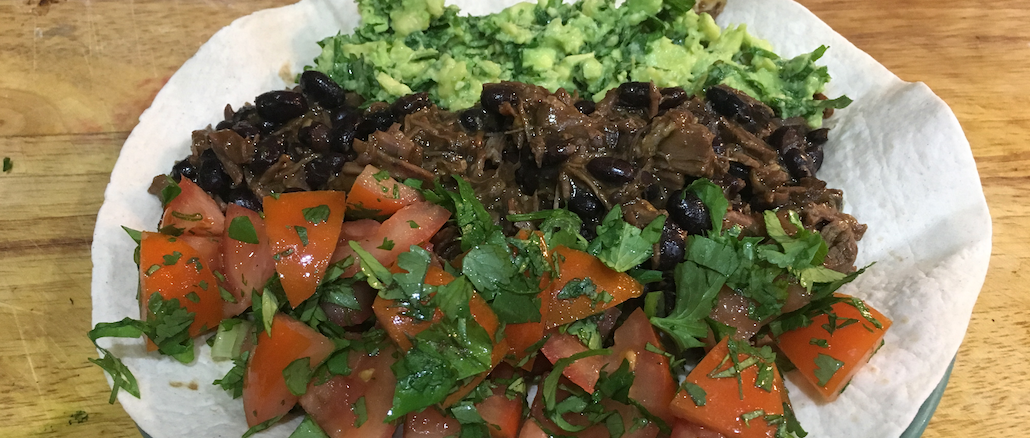 Craving a Chipotle Barbacoa burrito?  This is better!  Cooking braising steak slow and low with lots of spices makes for a tasty meat.  This dish is pretty much hands off – chuck it all into a pot and let it cook for three or four hours – so you can cook once and then use this in burritos and salads.
SaveSave
SaveSave
SaveSave
SaveSave
SaveSaveSaveSave
SaveSave
SaveSave
Mix all of the marinade ingredients in a medium bowl.

Add beef and make sure it is completely covered in the marinade.

Marinate for minimum of 4 hours, preferably overnight. Stir once or twice.
Put a large pot on the hob.

With a slotted spoon, remove the beef from the marinade and transfer to the pot. Discard remaining marinade.

Add salt, tomato paste, stock cubes and water to the pot.

Turn heat up until you bring the meat to a simmer (not a boil).

Cover, reduce heat to as low as you can and leave for 3 - 4 hours until tender.

Add black beans about 5 minutes before serving so they heat through.
Warm the tortillas using the pack instructions.

Pile meat, guacamole and salsa.

Wrap up like a burrito and enjoy.

You can wrap the burrito in aluminium foil to keep it warm (if eating later).

Alternatively, skip the tortilla and pile the meat, guacamole and salsa on fresh lettuce or spinach leaves to serve as a salad.