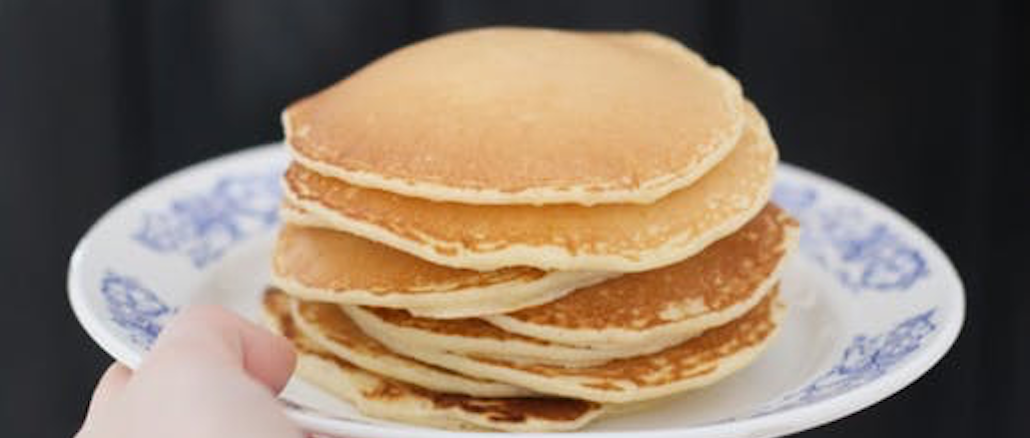 Pancake Day Recipes
Fat Tuesday, Mardi Gras, Shrove Tuesday, Pancake Day, Paczki Day. Whatever your preferred name, the Tuesday before Lent is the day where we break our New Year diets and have one massive sugar rush!
We love Pancake Day. Of course, we have a collection of our own recipes for fluffy, American pancakes. Buttermilk Pancakes (with or without blueberries) are a favourite and so are apple cinnamon spiced pancakes.
Our Las Vegas Carrot Pancakes are really something special. Feel free to decorate these with sparklers for a true Fat Tuesday, Mardi Gras celebration.
Not everyone likes sweet, though, so we made amazing spinach and halloumi gluten-free savoury pancakes.
Easy Pancake Recipes
Get everyone involved in making pancakes, eat, laugh, be happy, make memories and find gratitude in the company of your favourite people. Try any (or all) of our easy pancake recipes!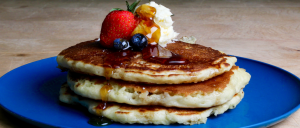 American Buttermilk Pancakes
Fluffy, American buttermilk pancakes are divine. Serve with butter and lots and lots of maple syrup. Top with crispy bacon.
Read Now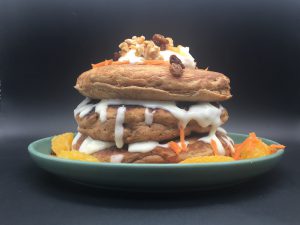 Carrot Pancakes
Serve like a layer cake, each layer divided with cream cheese syrup.  
Read Now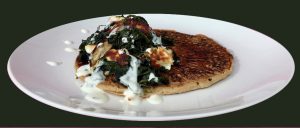 Spinach Pancakes with Halloumi
A savoury option for a Pancake Day or a quick vegetarian dinner.
Read Now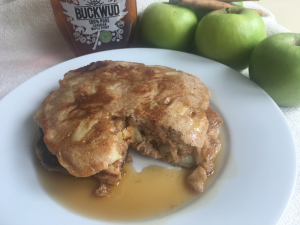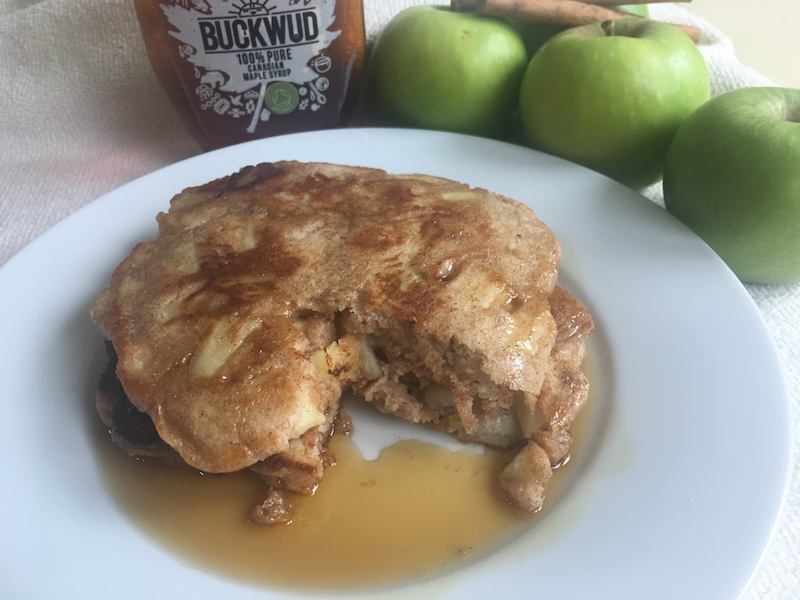 Apple Pancakes
Spiced Apple Pancakes using the best of British apples. Healthy pancakes to keep you full all morning long and supply your 'apple a day'.
Read Now
More Pancake Recipes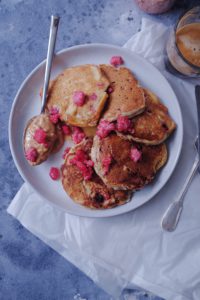 Raspberry Peanut Butter Pancakes
Raspberry and peanut butter pancakes from Alex Crumb. Who can resist PB&J pancakes?
Read Now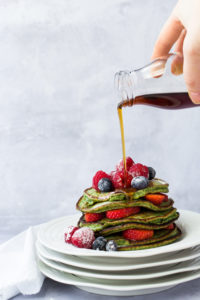 Green Pancakes
The Mother Cooker hidden greens pancakes. A tasty way to secretly get more vegetables in you.
Read Now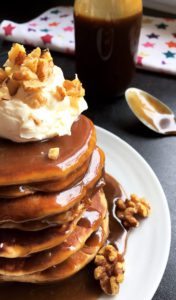 Sticky Toffee Pudding Pancakes
Something Sweet Something Savoury packs all the flavour of sticky toffee pudding in a pancake stack.
Read Now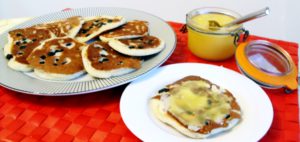 Lemon & Raisin Scotch Pancakes
Fab Food 4 All posted these Lemon & Raisin Scotch Pancakes. Perfect for pancake or an afternoon tea treat.
Read Now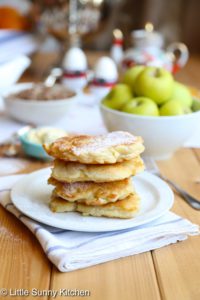 Polish Apple Pancakes
Polish apple pancakes from the Little Sunny Kitchen are made of apples dipped into pancake batter, then fried in butter and topped with powdered sugar. Now that's a treat!
Read Now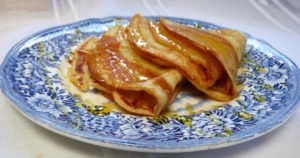 Russian-style honey pancakes
Chez Maximka says "Serve them hot with honey or any syrup you like (maple, agave, carob, golden) or dust with a bit of icing sugar." Yes, ma'am!
Read Now
Vegan Pancake Recipes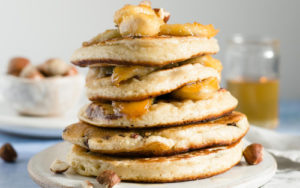 Caramelized Banana and Hazelnut Pancakes
These caramelized banana and hazelnut pancakes from One Green Planet are a true breakfast treat. And vegan!
Read Now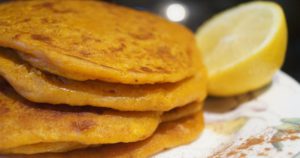 Sweet Potato Pancakes
The Vegan Nigerian is a food blog for Nigerian recipes with a vegan twist. Like these fantastic sweet potato pancakes.
Read Now
Pancake Syrup
Most importantly, you cannot forget the syrup. It is like pairing wine and food. The right syrup to the right pancake. We have homemade Blueberry Syrup which is cheap as chips by using frozen blueberries.
We love the Waitrose No. 2 Amber Maple Syrup for real Canadian maple flavour. Aunt Jemima Pancake Syrup is available in the UK but real Canadian maple syrup is a significantly better and similar price. Our Las Vegas Carrot Cake Pancakes are delicious with our Cinnamon Syrup.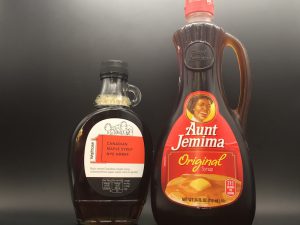 Tools for Pancake Day
Pancake Pan
Pancake pan with a shallow design for easy flipping of pancakes plus dishwasher safe for fuss-free clean-up!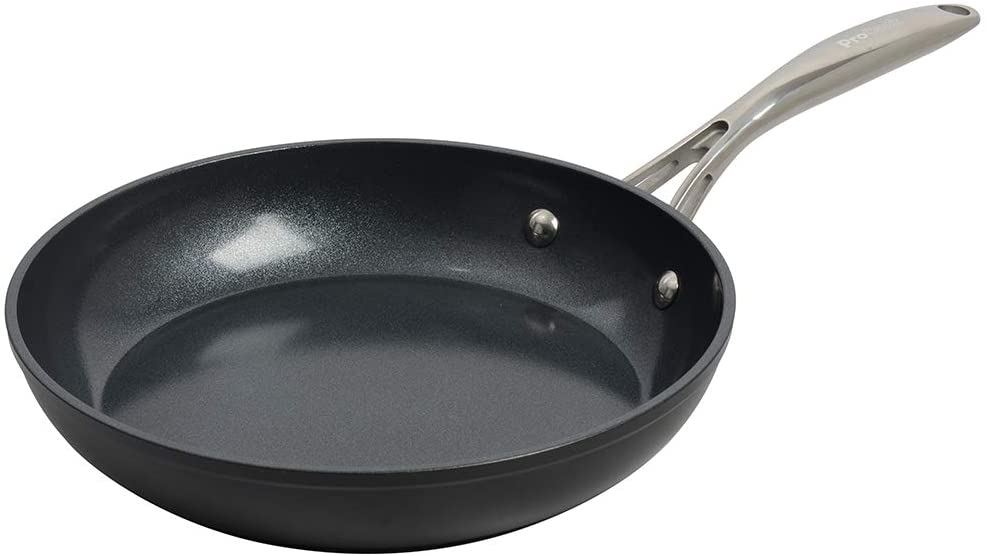 Digital Jug Bowl Scale
I love using a jug bowl scale for pancakes. The bowl is detachable and the handle is great for picking up and moving around the kitchen.
Everyday is Pancake Day
In America, every day can be Pancake Day. We even have a restaurant chain dedicated to the pancake – IHOP (International House of Pancakes) who are offering all you can eat pancakes for $4.99. No wonder Americans never eat at home! $4.99 per person and no washing up? Where do I sign??