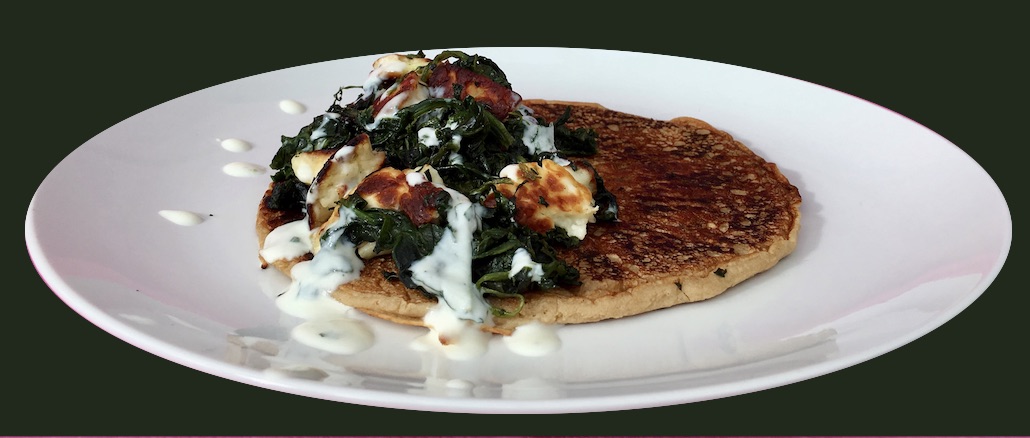 Savoury Pancakes
When we were collecting our extensive Pancake Day recipes, we were missing two things – something gluten-free and something savoury. Personally, I'm not usually a fan of the savoury pancake, however, Nadiya Hussain recently featured a street food recipe for spinach & paneer using tortillas, I thought it would also make an excellent savoury pancake. When I was given a bag of Lovegrass Ethiopia Teff Pancake Mix, the planets had clearly aligned.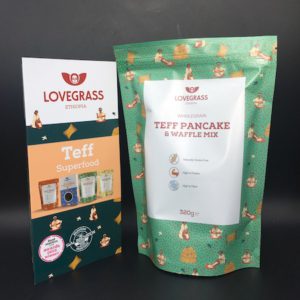 Spinach & Halloumi Savoury Pancake Inspiration
With inspiration from Nadiya, our Spinach & Halloumi Savoury Pancake recipe was a breeze. We paired our pancake with yoghurt, honey & mint sauce. A delicious combination of savoury and sweet. It could be our best pancake recipe. It does take a little dexterity with moving pans around the hob but that is just to save washing up. Gluten-free, high in fibre with a savoury, salty, sweet explosion of tastes makes this a perfect recipe for a special yet easy mid-week vegetarian dinner.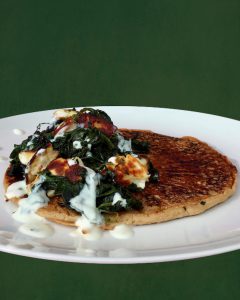 ---
---
Lovegrass Ethiopia Teff Pancake Mix
Anytime I have new ingredients, I first follow the instructions. This is a great way to get an idea of how the product is meant to be used. Also, I adore product packaging. My cereal used to go to mush in the mornings when I was a kid because I would rather read the packaging.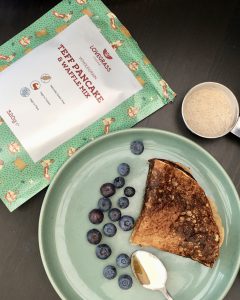 The directions are super simple – just add milk of your choice to the mix, let rest for three minutes and cook like regular pancakes. These were served with blueberries and a drizzle of honey. They were delicious. The coconut sugar in the mix was just the right amount of sweetness for me.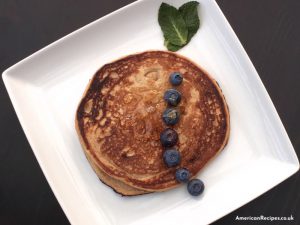 Ancient Grains
I was curious about teff. This "ancient grain" is a staple in Ethiopia. The included brochure about fair pricing, company history, etc. was comforting as the company provided lots of good information about fair trade and their values. Direct from Lovegrass.co.uk, the pancake mix is £4.49 for 320g (as of February 2019). 

Pancake Day 
I love Pancake Day. It is especially great for American recipes because most people are trying to find the perfect, fluffy, buttermilk pancake recipe. For something over-the-top, these Las Vegas Carrot Pancakes with cream cheese syrup are unforgettable. All of our pancake and pancake topping recipes are here.
Combine pancake mix and milk in a bowl.

Stir to combine and set aside for at least three minutes.
In a small non-stick pan, add the frozen spinach.

Cover and cook on low until thawed.

Uncover, add chives and cook until mixture is dry.

Stir in coriander and garlic butter.

Keep warm until ready to fill the pancakes.
In a large, non-stick pan, add olive oil and heat to medium-high.

Add halloumi and cook halloumi until light brown.

Add cooked halloumi to the spinach mix to keep warm.
In the same large, non-stick pan as you made the halloumi in (saves on washing up), heat a bit of vegetable oil to medium-high.

Add pancake mix and cook until bubbly and edges are dry. Flip pancake and cook on other side.

Pile the pancake with spinach and halloumi mix.

Drizzle over yogurt sauce and serve.

Repeat until all pancakes are made.