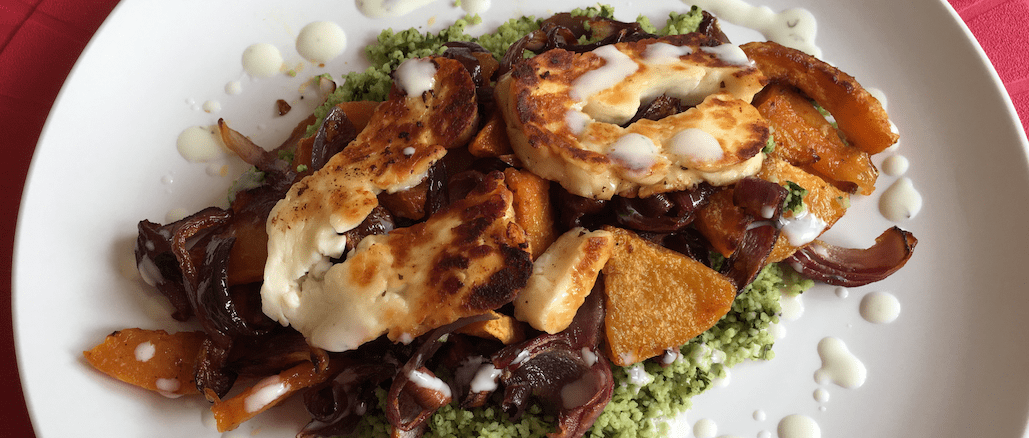 Halloumi Butternut Squash Recipe
Halloumi & butternut squash couscous salad marries roast squash, salty halloumi and cool mint yogurt sauce into a delicious, satisfying and portable salad.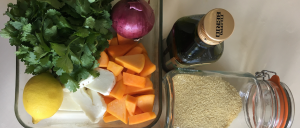 The roast butternut squash is sweet and satisfying on lemon couscous. The fresh herbs make this salad light and aromatic. Scale up / down depending on your needs. In the summer, we make a BBQ Veggie version. Both of these couscous salads are staples in our picnic and pack lunch rotation.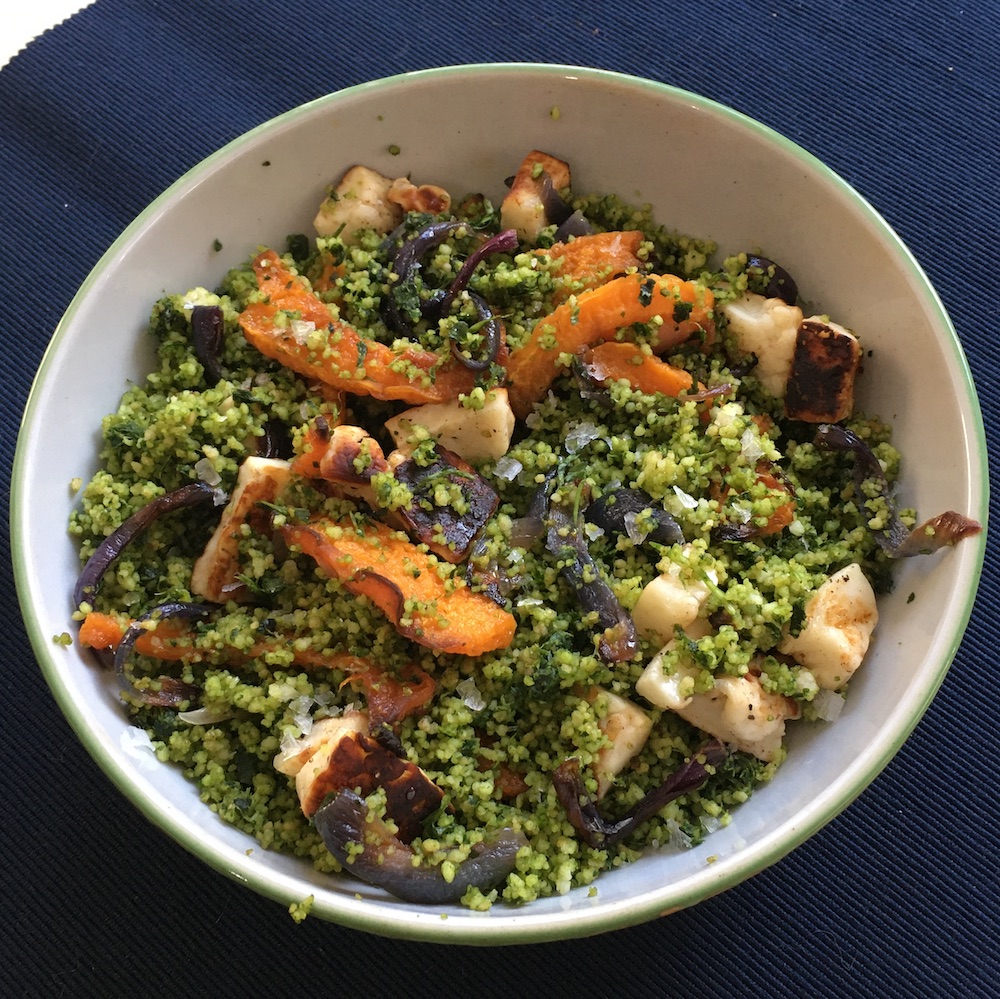 Food Matters
Food and laughter are the best medicine! My friend had been poorly so we packed up this salad and a few more as a picnic, took up a spot in the hospital canteen and had ourselves some proper vegetarian, healthy food. She was so hungry, she asked for seconds and then thirds! The pink tablecloth was my Mum's idea as a way to brighten the spirit of the hospital. We had such a good chat, laugh and food. It was the best day.

Serve A Buffet
Many of our recipes are meant to be served buffet style.  I love a well-presented plate but I also love the feel good vibe when everyone is digging in and piling up heaps of food on their plate and dishes are passed around a table. It makes me grateful that I live in a land of abundance and joy as opposed to scarcity and rationing.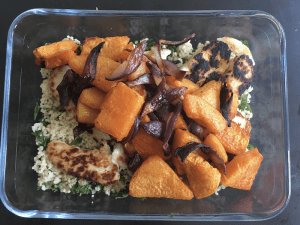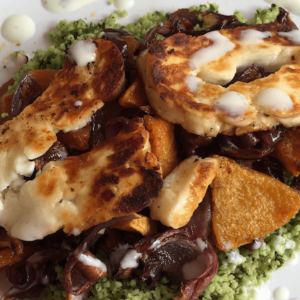 Halloumi Butternut Squash Salad
Serve the Halloumi Squash Salad with mint yogurt sauce for a delicious, satisfying and portable salad.
Ingredients
Halloumi
250

grams

halloumi

sliced into 6 – 8 slices

1

teaspoon

olive oil
Couscous Base
100

grams

couscous

100

ml

water

boiling
Couscous Dressing
1

teaspoon

extra virgin olive oil

1

medium

lemon

juiced

30

grams

rocket

30

grams

coriander
Roast Butternut Squash
400

grams

butternut squash

cubed

2

medium

red onion

sliced

1

teaspoon

cayenne pepper

1

teaspoon

dried rosemary

1

tablespoon

olive oil

1

teaspoon

garlic salt
Mint Yogurt Sauce
1

batch

Mint Yogurt Sauce
Instructions
Halloumi
Drain and slice the halloumi.

Leave to dry on kitchen roll.

Heat oil in a shallow fry pan to very hot.

Fry halloumi on both sides until golden brown.

Drain on kitchen roll and set aside.
Couscous Base
Place couscous in large bowl.

Pour over the boiling water.

Cover with plastic wrap and set aside.
Roast Squash
Place the squash, onion, olive oil and spices in a roasting tin.

Toss to coat the vegetables.

Roast at 180C (fan) until cooked through and slightly charred. Turn vegetables at least once during roasting to ensure even cooking.
Mix the Couscous Dressing
Place all of the ingredients into a container or bowl.

Using a hand blender, blend them into a puree.
Finish the Couscous
Fluff the couscous with a fork.

Add the couscous dressing and a pinch of salt.

Stir dressing thoroughly into the couscous.
Plate or Pack
Pile the couscous onto serving plates or portable containers.

Layer on the roast vegetables.

Top with slices of Halloumi.

Pack the Yogurt Sauce separately and spoon on just before eating.