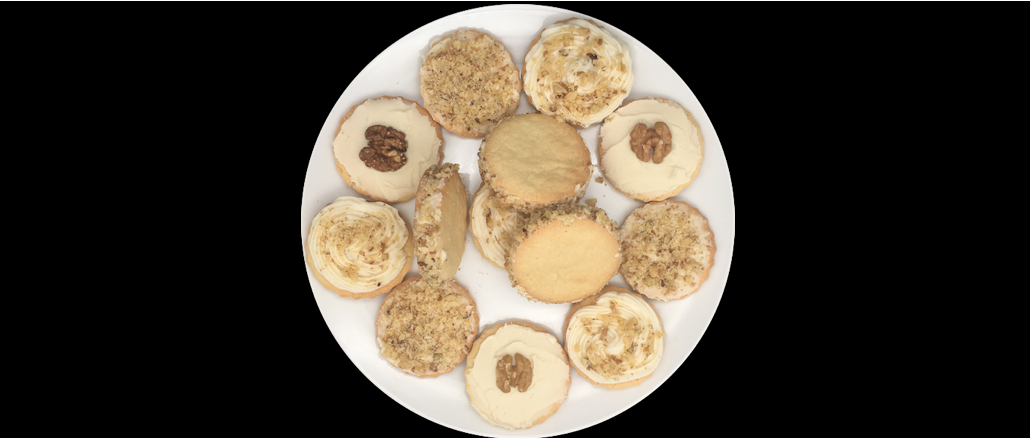 The Great British Bake Off
The Great British Bake Off for 2018 started on 28 August. Biscuit Week is my personal favourite. The Signature Challenge was to make a biscuit about themselves and the British Isles. The look of Briony's Apple Cider Biscuits made me drool. We have our own collection of delicious Apple Recipes to celebrate our favourite autumnal fruit. 

Shortbread Biscuits
The #GBBOTwitterBakeAlong is also back and for Biscuit Week, we chose to make Shortbread Biscuits because shortbread biscuits and a cuppa are one of the things we cherish about Britain. Whether Scottish or Cornish or Shrewsbury or what other regional spins these little balls of butter, flour and sugar are a delight. We submitted our sandwich version.
Maple Walnut Shortbread Biscuits
We've put a North American spin on the classic shortbread by using California walnuts and pure Canadian Maple Syrup. Since both our British and American heritage is represented, it brings a bit of personalisation to the recipe.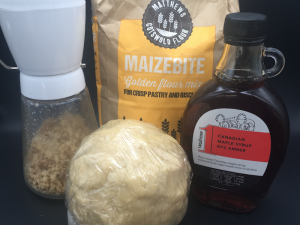 Decorated Shortbread Biscuits
Yes, of course, biscuits (and all food) is supposed to be beautiful to look at as well as taste delicious but not all of us have the talent or patience to be precise. We've iced our shortbread biscuits numerous ways depending on how much you want to impress. All of them are ready to be scoffed down with a glass of cold milk, hot coffee or cuppa.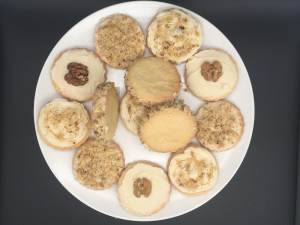 In large bowl, cream together butter and sugar.

Sift together flour, salt and baking powder. Add to the wet mix.

Shape into a ball and cover with cling film.

Refrigerate and rest the dough for at least 4 hours.

Roll out dough on floured surface until uniform thickness.

Bake at 170C fan for 10 - 12 minutes until golden brown.

Remove from tray and let cool on wire rack. Cool completely before icing.