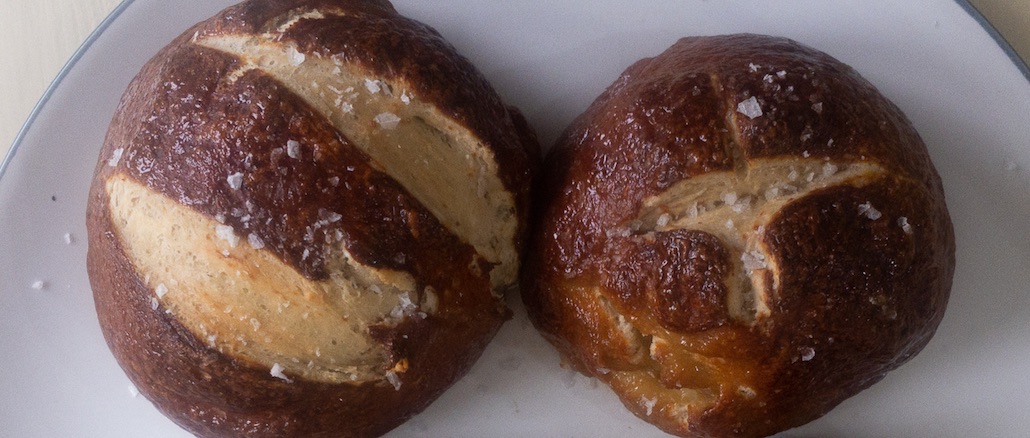 Pretzels = Summer
Hot pretzels are a summertime treat at all American amusement parks, state fairs and other community events. Usually covered with cinnamon and sugar or dipped in chocolate sauce or cheese or mustard. Another favourite is to make pretzel bites and cover them with cheese, beef chili and onions.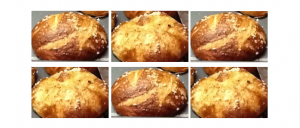 German Pretzel Roll Recipe
The best pretzels are, of course, German. We've been searching a long time for a proper recipe for German Pretzel Rolls.  Not just twists and snacks but a roll that we've been served in many of the delis in Berlin and Hamburg.
A salty pretzel roll sliced open and stuffed with ham, cheese and some chive mayonnaise is a treat that turns a boring sandwich into a lunch box treat!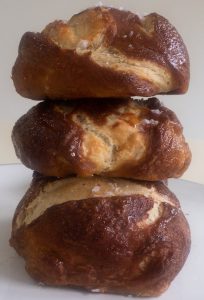 This recipe is super versatile.  It is based on Laura's recipe that we found here. Instead of making two loaves, we made one loaf and then six delicious rolls for soups and sandwiches.
The crust on the rolls is so chewy that you can carve out the middle and fill your favourite soup for an edible soup bowl. For sandwiches, ham & cheese, salami & cheese, cheese & pickle, cheese & caramelised onion chutney – you get the point- are all delicious.
The loaf we sliced and served with sweet honey butter for brunch. The combination of salt and sweet was divine. As always with real bread, any leftovers make a yummy bread and butter pudding or french toast.
SaveSave
SaveSave
SaveSave
SaveSaveSaveSaveSaveSave
SaveSaveSaveSaveSaveSave
SaveSave
Assemble the Kitchenaid Mixer with a dough hook

Combine yeast, water, and brown sugar in the bowl of the mixer

Let stand for 5 minutes minimum - look for the yeast to start to foam

Melt the butter in microwave and combine with milk. Set aside.

Start mixer on low speed and combine yeast mixture with dairy mixture until just combined

Add flour slowly until fully combined.

Turn mixer to medium (setting 2) and knead the dough. You want a firm ball, not too sticky to handle. Add flour 1 tablespoon at a time until you reach desired consistency.

Oil a large Pyrex bowl (I use a 3 litre).

Put dough in bowl and leave in warm place to rise for at least an hour or until double in size.
After the dough has doubled, heat oven to 190C (fan).

Bring 4 litres of water to boil in a large pot.

Slowly add the bicarbonate of soda - slowly or else it will explode all over your kitchen!

Remove the dough and gently press out the air bubbles.

Cut the dough in half. Shape into two balls if you want two loaves. We made one loaf and then cut the second ball into 6ths to make 6 sandwich rolls.

After shaping, IMMEDIATELY drop the dough into the water bath. DO NOT ALLOW A SECOND RISE.

Boil for 60-90 seconds on each side.
Sprinkle coarse sea salt over the bread

Use a knife to cut an "X" on the top of the bread (or rolls) as the dough will need to expand

Straight into the oven for 22-25 minutes, rotating the baking sheet once during baking for an even brown crust.