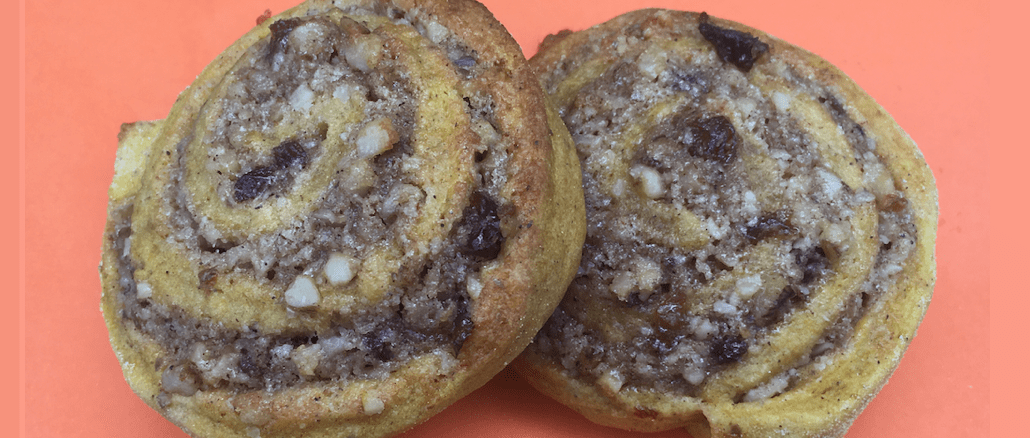 Pumpkin Walnut Pinwheels
Our Pumpkin Pinwheels use a classic combination of pumpkin, walnut, cinnamon and maple syrup.  We make them into pretty pinwheels for presentation and to ensure even distribution of the filling.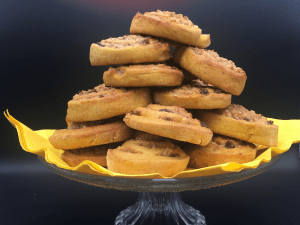 Pumpkin Biscuits
Pumpkin Biscuits make a perfect centrepiece for a sophisticated, autumn-themed, afternoon tea.  Our pumpkin biscuit recipe delivers a biscuit that is not too sweet. The combination of sultanas, walnuts and maple syrup complement a strong cup of builder's tea or a cup of coffee.  
As always, biscuits are made for sharing. You can double this pumpkin biscuit recipe and wrap one log for the freezer.  Then when you have unexpected guests or a last minute charity event, just slice and bake. All of our biscuit & cookie recipes make for edible gifts, exciting dessert buffets or conversation starters at events. 
Pumpkin Recipes 
Pumpkin is synonymous with Halloween and Thanksgiving – two of our favourite things about autumn.  For Halloween, these pumpkin biscuits are a great part of a party buffet.  They are perfect for little people to eat with their fingers.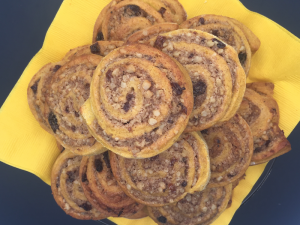 Also, we bake these pumpkin cookies as an alternative to pumpkin pie for Thanksgiving for the "kids table" as many of them don't want a full piece of pie or find it too rich.
Want to learn more about American Thanksgiving? Check out The Ultimate British Guide to American Thanksgiving.
Pumpkin Cookies 
We use independent British products where possible but there is no need to seek these speciality ingredients. The best thing about these pumpkin walnut biscuits is that you can pick up a can of pumpkin at your local grocery store and you are likely to have all of the other ingredients in your cupboard.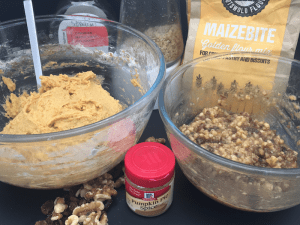 We used FWP Matthews Maizebite flour in this recipe. FWP Matthews is one of the only independent flour millers in England and we are lucky to be near them in the Cotswolds. See our many other recipes featuring their amazing flours.
This is not a sponsored post or paid promotion. It is a gift to live in a country and county so rich with local, independent businesses. Shopping local keeps these businesses alive!
Remove the nut mixture from the fridge and let come to room temperature (about 30 minutes).

Tip the chilled cookie dough onto a floured surface and roll out into a rectangle shape about 1 cm thick.

Spread the nut mixture on the cookie dough getting as close to the edge as possible.

Roll up lengthways into a long sausage shape. Make sure you get a good swirl going!

Cover the cookie dough with clingfilm and put back in the fridge to rest for at least two more hours.
Line a baking tray with baking parchment.

Remove chilled dough from the fridge.

Slice into 12 biscuits and arrange them on the baking tray. (You might need two baking trays depending on what size you have.)

Bake for 10 - 12 minutes until golden brown.

They are best fresh but they are also delicious dunked in milk, tea or coffee. Store in an airtight container to keep these fresh for a few days.
You can double the batch and make two rolls. Bake one and put one in the freezer for later in the season.  Just thaw overnight in the fridge and then slice & bake as directed.