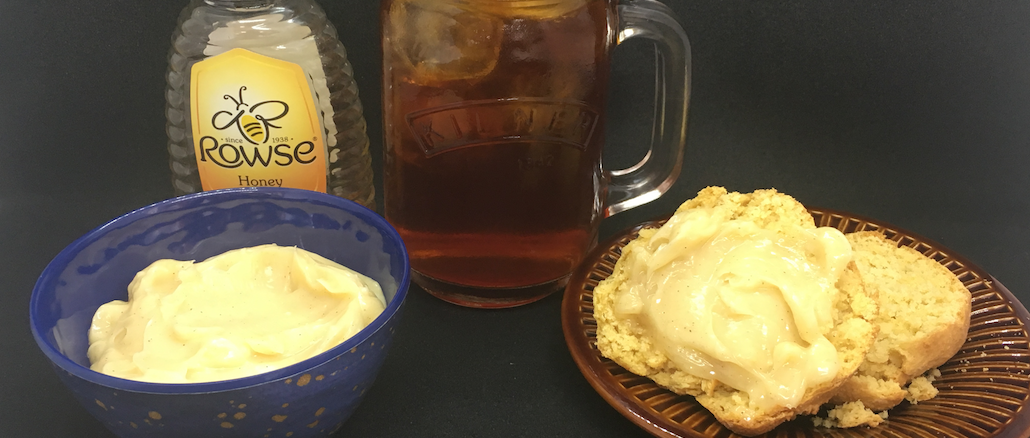 Cornmeal Scones
Do you follow #TwitterBakeAlong? If not, you should! Each week they have a challenge for bakers. It is great fun to bake and see everyone else's bakes. For Afternoon Tea Week 2018, the challenge was scones.
Of course, debate rages on of how to pronounce scone and whether there was jam then cream or cream then jam (I'm the latter). To do something out of the ordinary, we decided to create a Texas Twist on Afternoon Tea. We made a batch of cornmeal scones as our entry.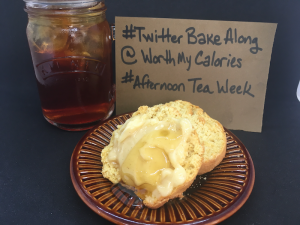 Texas Twist on Afternoon Tea
It's a simple menu – cornmeal scones with cinnamon honey butter and sweet iced tea. Basically, we slaughtered every sacred cow of a proper British Afternoon Tea. At least we used Twining's English Breakfast tea!
This recipe only makes four (huge) scones but the recipe easily scales to however many you would like to feed.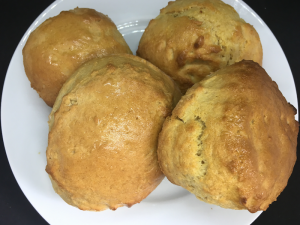 Winnie the Pooh Picnic Scones
There cannot be enough honey to go with Cornmeal Scones. One might think that cinnamon honey butter and then extra honey is too much honey but that isn't possible. As Pooh says, "eating honey was a very good thing to do". It is easy to build a Winnie the Pooh themed picnic around Cornmeal Scones. Indeed we call them picnic scones because they travel well and can be paired with our Southern Fried Chicken and coleslaw to round out a full picnic menu.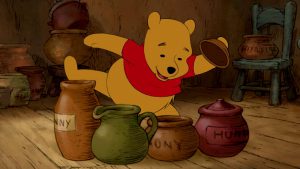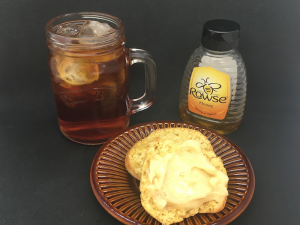 Cornmeal – Not Polenta
Cornmeal is not the same as polenta. Try Natco Fine Cornmeal which you can get at Tesco or Sainsbury's – usually in the ethnic foods section. 
SaveSave
SaveSave
Line baking tray with parchment

Set out baking parchment and dust with flour for rolling out
Tip the dough onto the floured surface.

Fold the dough over to be about 2 inches thick.

Use the scone cutter to cut the scone and place it on the prepared baking tray.

Repeat until you have finished the dough. (The last one is always round for me because I just shape what's left of the dough.)

Bake in the oven until brown. This will take 15 - 20 minutes.