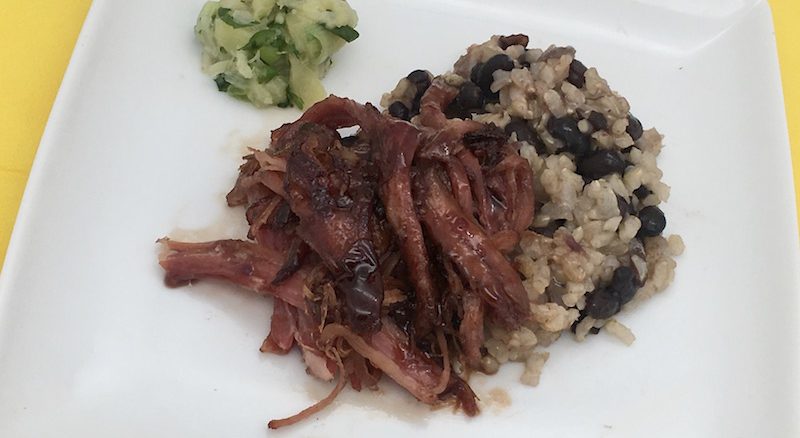 Cuban Rice and Beans Recipe
We serve Cherry Coke Ham with this Cuban black beans and rice recipe plus pineapple salsa. This recipe is a very simple to stir up to accompany the sweetness of the ham and the heat of the salsa.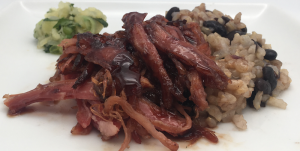 Pineapple Salsa Recipe
Do not skip the pineapple salsa. It adds a refreshing zing to this dish. We had only habanero chilli when we made ours so we used the smallest sliver possible. It was so small we couldn't even photograph it. Choose whatever type of fresh chilli and an amount of it that suits your own taste. Fresh coriander is a must!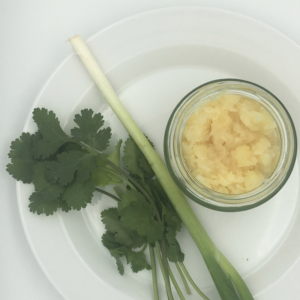 Efficient Cooking
I love this recipe because it makes a whole meal and you can wash up as you go along. Here is my cooking plan:
Get the ham going
Make the glaze and pineapple salsa
Cook the rice (keep it warm)
Drain the beans and set aside
Do dishes, set the table, get drinks ready for guests – that kind of thing
When ham is resting, fry up the rice & beans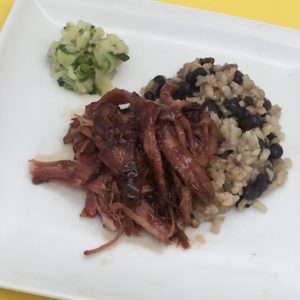 Cuban Black Beans, Rice & Pineapple Salsa
Cuban black beans with pineapple salsa.
Ingredients
Cuban Rice & Beans
200

grams

cooked short brown rice

using package instructions

1

tablespoon

vegetable oil

1

small

red onion

finely chopped

1

clove

garlic

finely chopped

1

can

black beans

425g, drained & rinsed
Pineapple Salsa
435

grams

crushed pineapple

1

spring onion

thinly sliced on the diagonal

1

handful

coriander

fresh, leaves picked and chopped

1

small

chili

adjust heat to your taste
Instructions
Cuban Rice & Beans
In a large frying pan, add oil and garlic and fry on low until fragrant.

Add red onion and cook until onion is translucent.

Tip in beans and rice. Give it a good stir. Heat the beans and rice until warm. Do not stir too much or your beans will fall apart.

Season to taste.
Pineapple Salsa
Drain the pineapple (if making this with our Cherry Coke Ham, reserve the juice for the ham glaze).

In a small bowl, combine the crushed pineapple with the chili, coriander and spring onion. Stir to gently mix the ingredients.

Set the salsa aside for the flavours to infuse for at least three hours. Serve at room temperature.