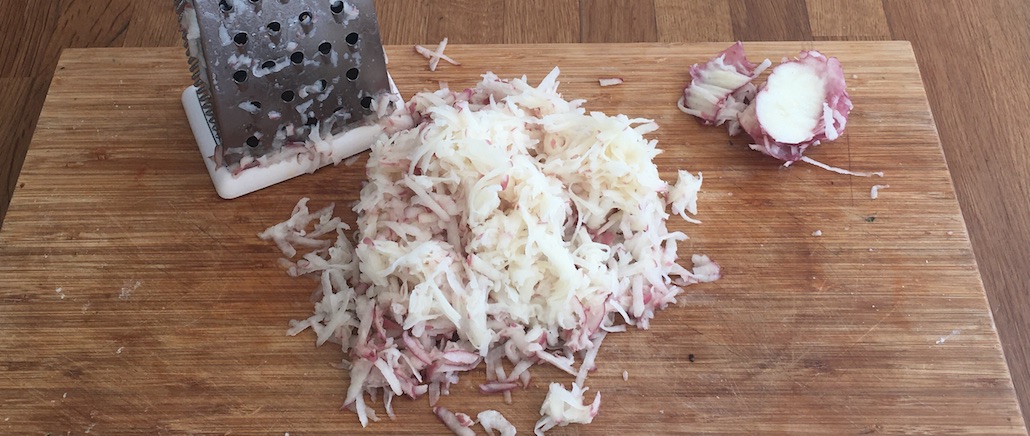 American Hashbrowns Recipe
The secret to making American hashbrowns is to wash the grated potato. This removes the starch and helps your potato cook through in the frypan. We like our onions pretty well cooked so we put those in first in some butter to soften them up. Add scattered, grated potato and cook through. Add other ingredients and top the whole tower with a fried egg. Bliss!
Scattered, Smothered & Covered
Waffle House is a staple along the I-75 motorway that connects Ohio, Kentucky, Tennessee, Georgia and Florida. The greatest part of a Waffle House (besides the amazing REAL hashbrowns) is that it is visited by everyone. Stop into one and you'll see truck drivers, builders and men in business suits who are killing time before their first meeting along with lots of families filling up on cheap, good food.
The food is cheaper than cooking at home and no fighting over who does the dishes! It is also fun to order because of the way they structured the hashbrowns menu. Here is an excerpt of their menu:
Make-ahead hashbrown recipe
Increase the potatoes to about 500g and freeze the extra for easy hashbrowns any time. No need to thaw them, just dump the frozen potatoes into the frypan, add five minutes to the cooking time and you're all set.
This recipe is hashbrowns that are simply scattered and smothered. If you have some leftover ham or gammon steak, make hashbrowns scattered, smothered, covered and chunked. Serve with eggs, cooked to order.
Vegetarians can fill up on scattered, smothered, covered, diced, (maybe peppered) and capped.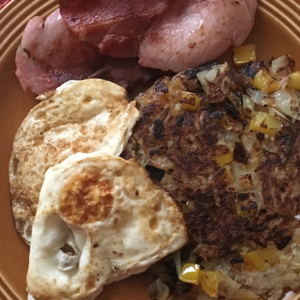 American Hashbrowns
Prep the hashbrowns in bulk and freeze them. Just remove from the freezer and pop in the pan for a hearty breakfast.
Ingredients
1

medium

white onion

, small dice

4

tablespoons

olive oil

20

grams

butter

, Lurpak, salted

1/8

teaspoon

garlic salt

1/8

teaspoons

dried parsley

2

medium

potatoes

, grated, Desiree preferred
Equipment
kitchen roll

box grater

1 litre pyrex bowl
Instructions
Caramel Onions
In a medium, non stick fry pan, add the butter and olive oil and heat to medium (butter has melted).

Add onions and sprinkle with garlic salt. Stir thoroughly through the butter and oil.

Cook onions on low for 20 – 30 minutes to cook through and caramelise them. Stir often and don't let them burn. Get them soft and sweet.

Stir in the dried parsley and set aside.
Prep Potatoes
In the meantime, using a box grater, grate two potatoes.

Fill the Pyrex bowl with cold water.

Add the grated potato to the water and stir around. This will remove the starch from the potatoes.

Drain and rinse thoroughly and then layout the grated potato on kitchen roll to dry.

Wipe out the pyrex bowl to try it.

Pat the grated potato until dry, put back in the Pyrex bowl and drizzle over about 1 tablespoon of olive oil. Season with Maldon Sea Salt and fresh cracked pepper.

Using your hands, rub the oil into the grated potato separating the potato as much as possible.

If making in batch, put individual portion sizes (about a handful per person) into freezer bags and freeze.
Make Hashbrowns
In a non-stick fry pan, add 5g butter and 1/2 tablespoon olive oil and heat to medium.

Scatter the hashbrown mixture to the pan. Cover with caramel onions and let them fry without stirring.

Peek under the potatoes to see if they are crispy and if so, carefully flip the potato and fry on the second side. (The second side will take half as long as the first side.)

Serve with accompaniments as you wish. Eggs and bacon for breakfast. Poached eggs and asparagus for a quick lunch, etc.