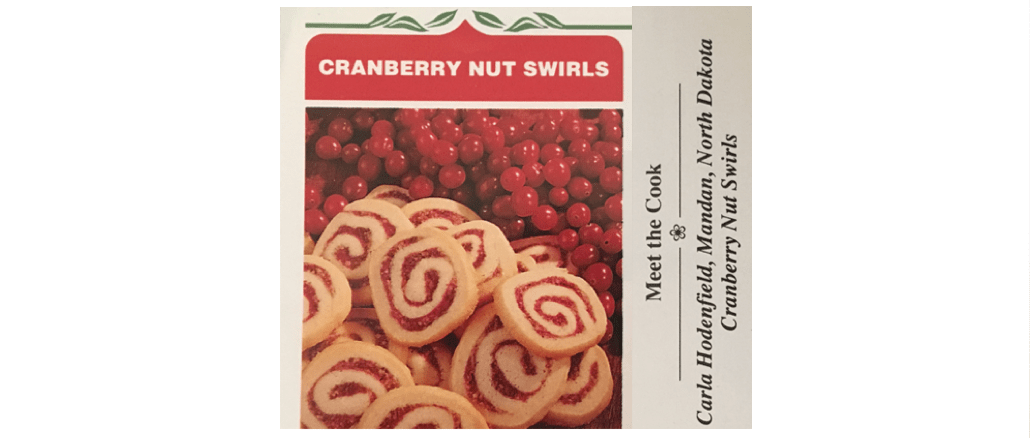 Straight out of Aunt Marcia's archives!  Country Woman magazine printed Carla Hodenfield of North Dakota recipe but this clipping wasn't dated.  Her Cranberry Nut Cookies have been a Christmas classic for our family forever. My recipe is only slightly modified from Carla's as I prefer to use the Kitchenaid to make life easier. Replace the cranberries with mincemeat and make an alternative to traditional mince pies.
SaveSave
SaveSave
SaveSave
SaveSave
SaveSave
SaveSave
SaveSave
SaveSave
In a large bowl (I use a Kitchenaid mixer), cream together butter, sugar, egg and vanilla until fluffy.

Combine flour, baking powder and salt and add to the mixture.

Refrigerate the dough for at least 1 hour.

In a small bowl, combine cranberries, walnuts and orange zest.

In a separate small bowl, combine brown sugar and milk.

Roll out the dough on a floured surface into a square.

Spread the brown sugar and milk mixture over the dough.

Sprinkle the cranberry and nut mixture over the dough.

Roll dough tightly (like a swiss roll). Wrap in baking parchment and chill overnight.

Slice roll into 1/4 inch slices and bake at 170 C until edges are light brown.