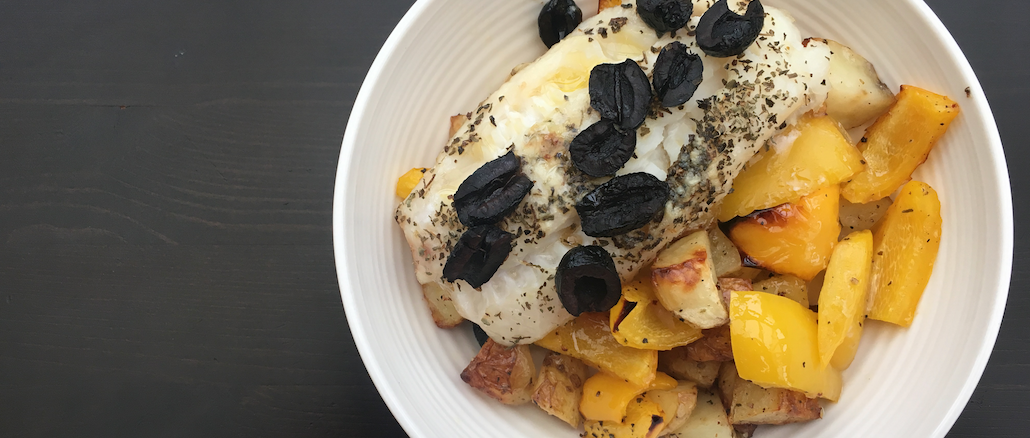 This simple recipe is perfect for after work.  Toss it all in the oven and let it bake while doing homework, sorting laundry or sipping a glass of wine.  It is also a great way to use frozen cod fillets so you can always have the ingredients to hand.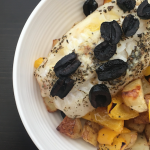 Ingredients
2

tbsp

olive oil

500

grams

baby potatoes

, diced

1

small

white onion

, diced

1

medium

bell pepper

, diced, we used a yellow one

4

frozen

cod fillets

, thawed

5

grams

dried basil

1

handful

black olives

, dried, chopped in half

12

small

cherry tomatoes

, halved
Directions
In a medium roasting tin, add the diced baby potatoes and drizzle with the olive oil. Season well and roast at 190F (fan oven) until taking on a bit of colour (about 10 minutes)

Add onion and bell pepper to roasting tin, stir together to flip the potatoes. Return to oven for further 10 minutes

Make room in the roasting tin for the cod fillets (we used 4 small frozen ones).

Drizzle cod fillets with a bit of olive oil and some dried basil. Top with the chopped olives and return to the oven until the fillets have cooked through (15 - 20 minutes).

Remove the roasting tin from the oven. Plate the potatoes.

Add the halved cherry tomatoes to the roasting tin and stir through the juices in the pan.

Serve cod, olives and tomatoes on top of the potatoes.