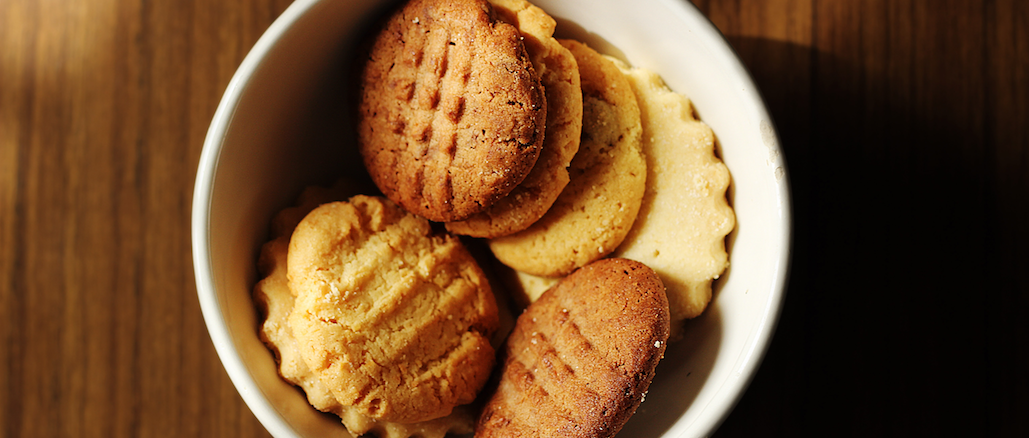 Peanut butter cookies were one of my Mum's favourites to make for an after school treat. Have I mentioned that Jif is the best peanut butter ever?  Their famous tag line of "Choosy Mom's Choose Jif" sparked a whole host of guilt if you dared feed your children anything less. The secret (according to the advertisements) is that the peanuts are roasted before turning into peanut butter for that "fresh roasted peanut taste".  Mum always felt quite chuffed when she made treats with Jif. 
Thankfully, you can get Jif Peanut Butter in the UK from Ocado or Amazon. Yes – it is more expensive but the Amazon link is for 6 jars.  That is plenty to make this recipe quite often and to try out our No Bake Cookies plus load up homemade NYC Bagels.
Jif peanut butter does make a difference for these biscuits. Get chunky if you would like a cookie with little peanut bits or smooth for a biscuit that will just melt in your mouth. Other brands of peanut butter will work and I suggest that you try this two or three times with a few different types or brands of peanut butter until you settle on one that is your favourite.
SaveSave
SaveSave
SaveSave
SaveSave
SaveSave
SaveSave
SaveSave
SaveSaveSaveSave
SaveSave
SaveSave
Cream together butter, caster sugar and brown sugar.

Add this mixture and the vanilla extract to the creamed butter and sugar.

Combine flour, soda, baking powder, salt and add to the liquid mixture.

Flatten with fork in a criss-cross pattern. Sprinkle with granulated sugar.

Bake at 190 C for 8 minutes until brown.

Let cool and eat with a glass of cold milk.