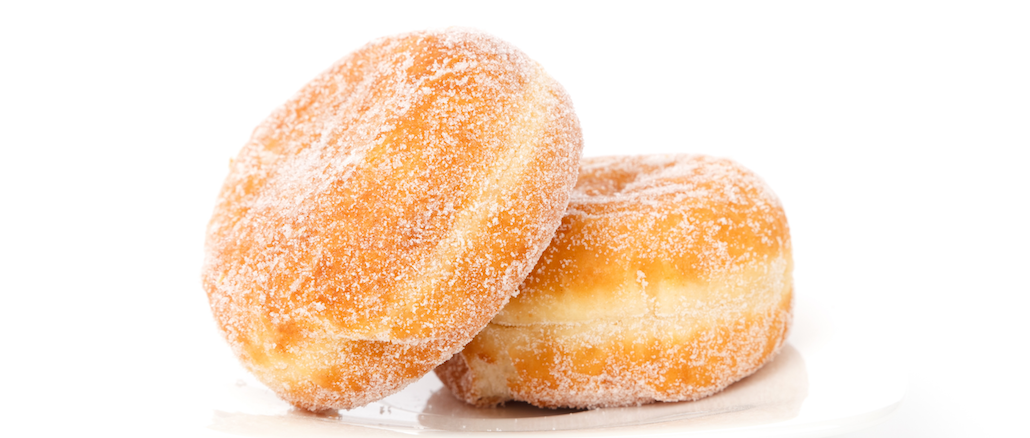 Jam Donuts are delicious. A deep-fried donut filled with raspberry or strawberry preserve rolled in sugar. These jam-filled donuts are a once a year treat. Each winter, my cousins would trek to the local Polish Bakery and stand in a queue for up to two hours to pick up their pre-ordered dozen of paczki. At 11 AM, we would have coffee, tea and paczki. After that, a sugar nap.
According to The Polish Bakery in Wembley, London, "the more we eat doughnuts on 'Tłusty Czwartek' [Shrove Tuesday], the more happiness and prosperity await us in the upcoming year." At The Polish Bakery, they make theirs with plum jam. If you can't be bothered to make your own paczki, the trip to Wembley is worth it.
We've adapted this recipe from Real Good Cooking Tips for authentic paczki. There are no preservatives so you need to eat them all on Paczki Day. Always use caution when cooking with hot oil. Keep the kiddos away and make sure you have a fire extinguisher handy – just in case.
SaveSave
SaveSave
SaveSave
SaveSave
SaveSave
SaveSave
SaveSave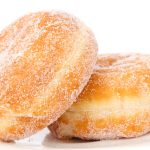 Ingredients
300

ml

milk

, warm to about 43C

14

grams

dry yeast

, 2 envelopes

100

grams

sugar

, caster or granulated

125

grams

butter

, room-temperature butter

1

large

egg

, room-temperature

3

large

egg yolks

, room-temperature (reserve the whites for another use)

1

teaspoon

salt

700

grams

plain flour

, recipe calls for 600g and you might need the other 100g to get the right consistency

4

litres

vegetable oil

, for deep frying

jam

, raspberry or strawberry

sugar

, granulated and / or icing sugar for dusting
Equipment
piping bag

KitchenAid Artisan Stand Mixer

, with paddle attachment

kitchen roll

, for draining extra oil
Directions
Add the yeast to warm milk, stir until it is dissolved and then set aside.

In a Kitchenaid stand mixer fitted with paddle attachment, cream together the sugar and butter until the mixture is fluffy. Beat in the egg, egg yolk and salt until incorporated well.

Slowly add 600g flour alternating with adding the milk-yeast mixture. Beat for a minimum of 5 minutes by machine until smooth. The dough will be very slack. If the dough is too soft, add remaining flour 25g at a time until desired consistency.

Place prepared dough into a greased bowl. Cover it and let it rise until doubled in size. 1 to 2 1/2 hours.

Turn the dough out onto a lightly floured surface. Shape into ovals 1/2-inch thickness (1.3 cm). Cut out rounds with 3-inch (7.5 cm) biscuit cutter. Remove the scraps, then re-roll and re-cut. Cover. Let rounds rise until doubled in size. (30 minutes or more)

Heat oil to 175C in large, deep pan. Place the Paczki top-side down (it's the dry side) in the oil, just a few at a time. Fry 2 to 3 minutes or until bottom is golden brown. Turn them over. Fry another 1 to 2 minutes or until golden brown.

Don't let the oil get too hot. It will brown the exterior before the interior is done. Test a cool paczki to make sure it's cooked all the way through. Adjust cooking time and oil heat if needed.

Drain paczki on kitchen paper and roll in granulated sugar while they are warm.

Poke a hole in the side of the paczki then, use a pastry bag, and squeeze in a dollop of a raspberry or strawberry preserves. Then dust with granulated sugar, or icing sugar.

Scoff whole or savour each bite. It is totally acceptable to have a icing sugar moustache or to lick the sugar off your fingers. We won't tell....