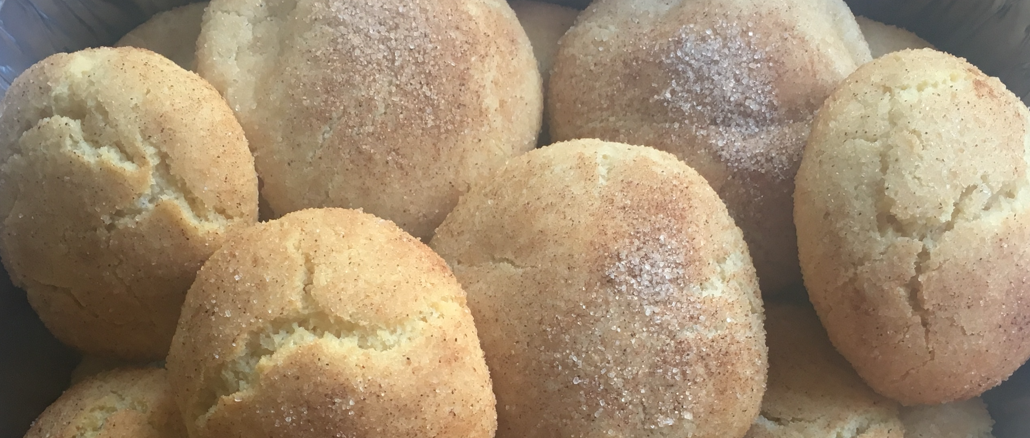 Snickerdoodles
Although based on our American Snickerdoodle recipe, this is strictly a "Snickerdoodles Recipe UK". The classic combination of cinnamon, sugar, butter and flour produces a biscuit / cookie / cake that is a satisfying treat alongside a good cuppa. Snickerdoodle cookies are a bit of a surprise. Some people expect a flat biscuit but these have a more fluffy, cake texture. Others expect something made from chocolate, peanuts and caramel like a Snickers candy bar. This is better – trust me. 
Snickerdoodle Cookies – A Favourite with Kids and Co-workers
Snickerdoodle cookies are easy to make and great for kids. They can help with rolling the dough balls in the cinnamon & sugar mixture before baking.
Snickerdoodles are one of my favourite recipes to make up and give away. The team in the office scoffed these at their 1020 AM tea break. Taking the time to bake homemade treats is a great way to get your co-workers out of their routine and really get to know them. You can use this recipe for fundraisers, birthdays or just because!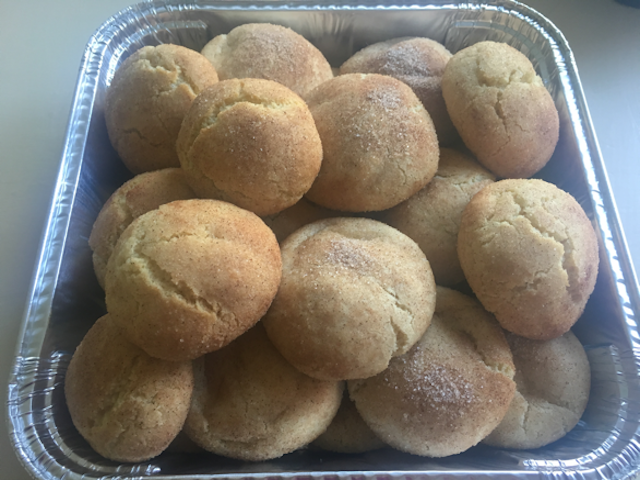 Fluffy Snickerdoodles come from #FlourPower
With this recipe, the Snickerdoodles will have a cake-light consistency – think of them more as a Jaffa Cake.  We used Matthews Cotswold Flours Plain Flour. We find that compared to standard plain flour, Matthews Cotswold Flour enhances the butter and cinnamon/sugar taste. These biscuits are just a bit sweet, buttery and moreish. A very adult biscuit with a cup of tea or coffee.
This is not a sponsored post or paid promotion. For us, it is a gift to live in Oxfordshire in England. A county so rich with local, independent businesses. Shopping local keeps these businesses alive and we selfishly want them in our neighbourhood!
SaveSave
SaveSave
SaveSave
---
SaveSave
SaveSave
SaveSave
SaveSave
SaveSave
SaveSave
SaveSave
SaveSave
SaveSave
SaveSave
SaveSave
SaveSave
SaveSave
SaveSave
SaveSaveSaveSave
SaveSave
In the Kitchenaid mixer (or a large bowl), cream together the butter and caster sugar.

Add eggs one at a time to the dough mixture.

Add flour, baking powder, salt, vanilla extract and beat until well blended.

Preheat oven to 180 C and line baking sheets with parchment paper.

In a small bowl, combine cinnamon and additional 2 tablespoons sugar.

Bake for 10 - 12 minutes until lightly brown.

Cool on wire rack and store in an airtight container.