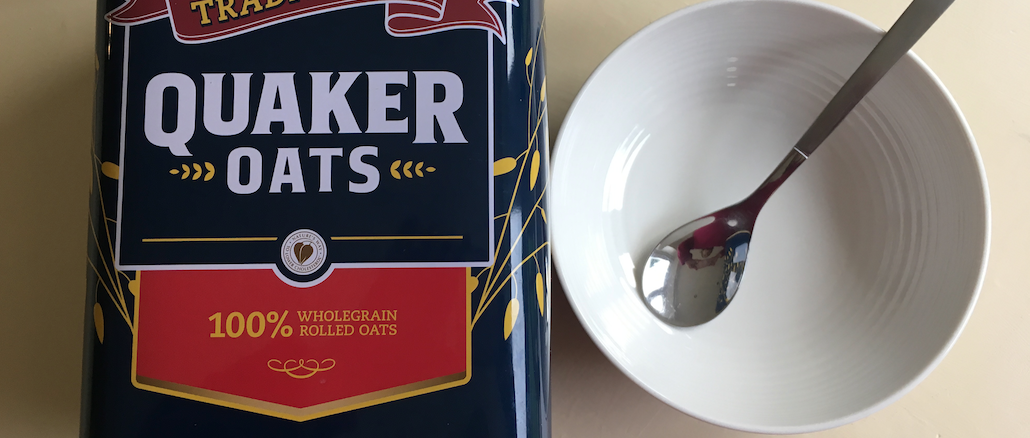 Porridge and Oatmeal
Porridge may have its roots in Scotland but Americans give it a good go. In Minnesota, where there is snow up to your hips for six months of the year, oatmeal is part of the winter survival kit and is a perfect choice for a healthy breakfast. A lot of people ask if American oatmeal is the same as porridge. The answer is a qualified 'yes'. Americans usually only use rolled oats so pinhead oats and steel cut oats aren't well understood. We love our porridge as a mix of Scotts Porage Oats and rye flakes. The rye flakes add a nice nutty flavour.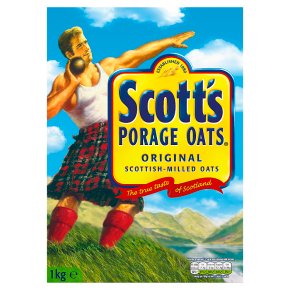 Good porridge takes at least 30 minutes in my opinion.  Instant or microwaved just isn't as good. Replace milk with any plant-based alternative of your choice. Scale this recipe up according to how many mouths you have to feed in the morning. Grandma Max had a full-time job, worked on the farm and she raised four kids. Porridge for breakfast was a breakfast staple as it is not only cheap to serve a large family but it is also good for you. She had more ways to make porridge than you can possibly imagine! Most of them were in the slow cooker so that it kept warm all morning.
My sister sent me this lovely tea towel with her recipe for oatmeal. If this is more your style, try our baked apple donut or Polish paczki (jam filled donut) recipes. We save the paczki for Fat Tuesday (aka Pancake Day) to celebrate the start of Spring.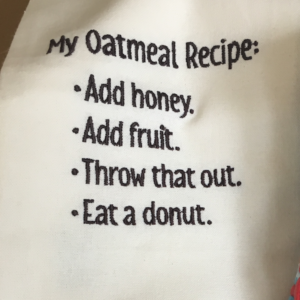 SaveSave
Healthy Breakfast Ideas
New Ideas for Oatmeal
We have five alternatives for porridge so that you don't get bored during the week.  If you still need more inspiration, try Green Leafy Gael's blog of super posh porridge. Vegan chocolate orange, coconut and goji berries and more.
I usually can't eat right upon waking so I like to pack my porridge in a pretty Thermos and dig in on the train into work.  After standing on the platform in the cold and wet, it is quite a treat. Posh Porridge is my default but on the weekends I love to treat myself to a bowl of Ultimate Porridge. The caramel nuts are just divine.
We also have delicious recipes for Baked Oatmeal. It is an American speciality and every Brit I know wrinkles their nose but then falls in love with our cinnamon roll oatmeal, super easy baked oatmeal cups and our luxury baked blueberry oatmeal.
SaveSave
SaveSave
SaveSave
SaveSave
SaveSave
SaveSave
SaveSave
SaveSave
SaveSaveSaveSave
SaveSave
SaveSave
SaveSave
SaveSave
SaveSave
Put all of the ingredients in a saucepan.

Heat on low to medium stirring frequently until thick. About 30 minutes.
Put the blueberries in your serving bowl and heat in the microwave until warm and bleeding blueberry juice.

Pile the porridge on top and finish off with the maple syrup.
Cut banana in half length-wise like a banana split.

In a non-stick skillet, melt the butter and sugar on low heat. When caramelised, add the banana and turn to coat in the caramel.

Put porridge into a serving bowl and top with caramelised banana.
Add dark brown muscovado sugar to the porridge.

Spoon into a serving bowl and top with jam.
Finely chop the mixed nuts.

Serve on top of porridge with a dollop of maple syrup.
Make caramelised nuts. These can keep in a Kilner jar for a long time so make it a start of the month job so they are to hand.

Place blueberries in a serving bowl and microwave until warm and juicy.

Top blueberries with sliced banana.

Top with cinnamon or maple syrup and caramelised nuts.