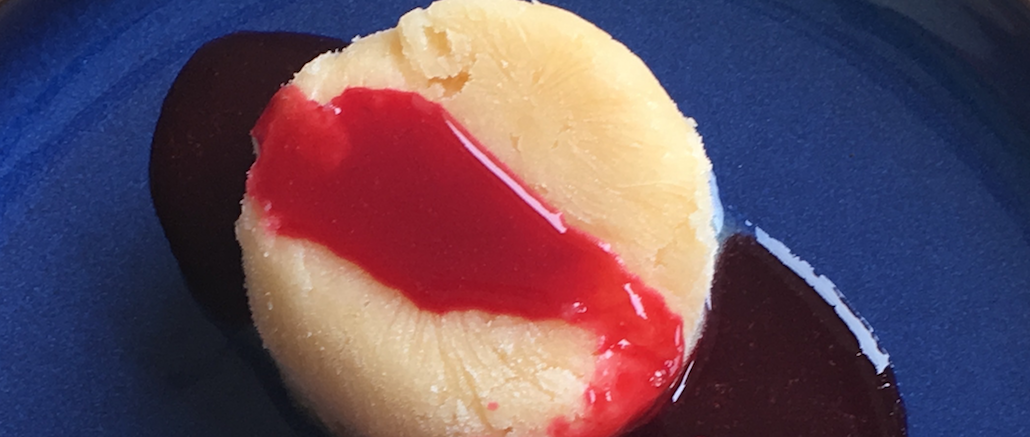 Dairy Free Peach & Ginger Beer Ice Cream
My BFF's birthday is at the end of May. She's dairy and gluten-free. However, birthdays require cake and ice cream (no matter how old you are). After a few trial and errors, Peach & Ginger Beer Ice Cream came out a winner. We used almond milk to make it dairy free. 
SaveSave
SaveSave
SaveSave
SaveSave
We served the Peach Ginger Beer Ice Cream with a gluten-free raspberry cake (recipe coming soon), raspberry coulis and a tremendously loud and out of tune round of the Happy Birthday song.
Not only did she take home all of the leftover Peach Ginger Beer Ice Cream but she also loved our dairy-free Strawberry Ice Cream. We packed two takeaway carriers of ice cream in a lunch tote filled with ice to take them safely to her home freezer.
Why Buy an Ice Cream Maker?
I purchased an Andrew James Ice Cream Maker because many of the flavours of ice cream that I prefer are not available in the UK. Orange, Lime and Raspberry American style sherbets are impossible to find. Plus, for parties, I love to create a centrepiece punch made with frozen ice cream, fruit juice and sparkling soda.
With an ice cream maker, not only can you experiment with flavours and dairy-free ice creams but you can also make the quantity you want.  Sometimes, I make just two servings of a particular recipe to "try" before jumping into having a whole litre in the freezer.
SaveSave
SaveSave
SaveSave
SaveSave
SaveSave
SaveSave
SaveSave
SaveSave
SaveSave
SaveSave
SaveSave
SaveSave
SaveSave
In a medium saucepan, mix peaches, water and caster sugar.

Heat to cook the peaches and smash them into a pulp.

Using a hand blender, blend the mixture until smooth.

Simmer to thicken into a syrup.
Once the syrup has cooled, stir in milk.

Chill the base mixture until you are ready to make the ice cream.
Make the ice cream to the manufacturer's instructions of your ice cream maker.

At the "just set" stage, portion into individual containers and leave them to freeze solid in the freezer.