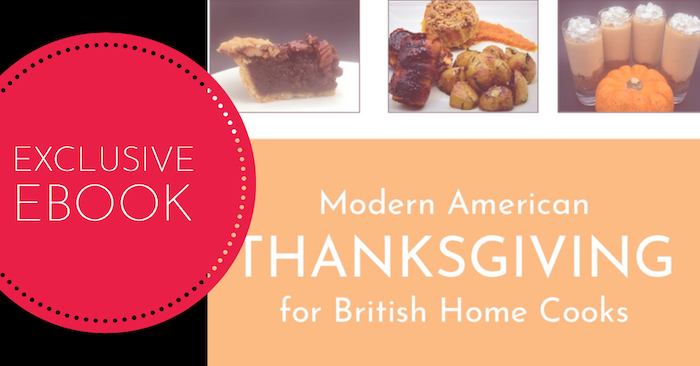 New e-book makes American Thanksgiving recipes attainable for UK consumers
We're giving away an e-book aimed at UK home cooks who want to create a traditional American Thanksgiving feast.
The book, titled American Thanksgiving for British Home Cooks from food blog AmericanRecipes.co.uk is available from 15 October 2019.
According to the Guardian, in 2014, one in six Britons celebrated Thanksgiving. Thanksgiving, a national holiday in the United States, is always celebrated on the fourth Thursday in November. A non-denominational holiday, it is an important celebration in American culture where families and friends come together to give thanks for all that they have over a large multi-course meal. This year, Thanksgiving Day is celebrated on 28 November 2019.
American Thanksgiving for British Home Cooks is rooted in the traditional American Thanksgiving feast, with recipes that have been given a modern makeover and are made for Britain's home cooks using ingredients that are easily available in grocery stores in the UK and measurements in imperial and metric standards. Exclusive recipes include Bacon-Wrapped Turkey with Maple Glaze, Cornbread Stuffing Muffins and Sweet Potato Casserole. Additionally, the book highlights various Thanksgiving desserts that are easy yet impressive such as Pumpkin Pie Squares, Pumpkin Cheesecake, and Treacle Pecan Pie.
Along with exclusive recipes for a Thanksgiving Feast, this book also contains a shopping list, cooking plan, and activity guide – everything the home cook needs to plan and cook a Thanksgiving feast.
Author, Stacey Anklam, said, "Having lived half my life in the US and half in the UK, I have celebrated Thanksgiving in both places. I have experienced the frustration of not finding the right ingredients for some of my traditional family recipes. I have adapted and modified my favourite recipes to make sure British home cooks can create this special feast here in the UK. The best thing about a British Thanksgiving is that it doesn't have to be on Thanksgiving Day. Thanksgiving is a time of gratitude; a pause from frantic schedules and one day to stop and give thanks for what you have. Pick any day, make it special with any or all of our Thanksgiving food ideas and you've got yourself a thanksgiving."
These British recipes are a mix of 'from scratch' and 'tricks' using shop-bought ingredients. The menu has been constructed to maximise the use of a standard British kitchen. The bacon-wrapped turkey, for example, is made on the hob to free up room in the oven for the extensive side dishes.
Ms. Anklam continues, "My favourite part of Thanksgiving is putting together a Thankful Turkey. Everyone writes two or three things that they are thankful for this year on paper feathers and you have to share them with the other guests. Together we construct a craft that encapsulates the spirit of community and gratitude. That is the core principle of the Thanksgiving holiday."
About AmericanRecipes.co.uk
AmericanRecipes.co.uk is dedicated to bringing authentic American, family-style food to the UK. The ethos is rooted in the idea that food encourages community and every bite is worth the calories when it is shared with those you love the most. The website fosters this spirit in a series of special occasion recipes and balances this indulgence with delicious flexitarian everyday food.
Instagram: https://www.instagram.com/americanrecipes.co.uk/
Twitter: https://twitter.com/AmericanCookUK
Pinterest: https://www.pinterest.co.uk/AmericanRecipesUK/
For more information, please contact: