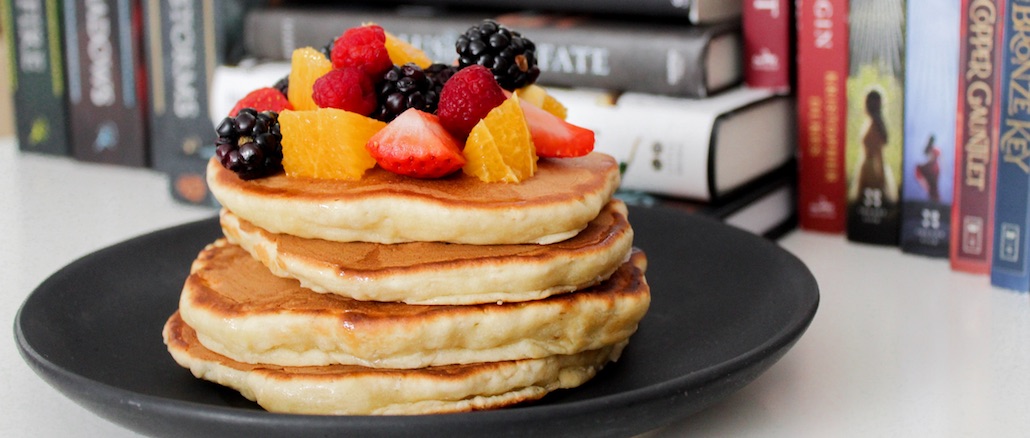 Pancake Recipes
We celebrate Pancake Day nearly every weekend. Our most requested pancake recipes are all in one place here. In this post, we've included what we think are the best pancake recipes from around the web to give you even more inspiration. From around the web, we found Peanut Butter & Raspberry Pillow Pancakes; Spinach & Strawberry (Vegan) Pancakes, Sticky Toffee Pudding Pancakes plus Caramelized Banana & Hazelnut (Vegan) Pancakes. Pancake Day is celebrated worldwide so we've also included a section on international pancake recipes featuring Scotland, Nigeria, Poland Netherlands and Russia. Don't fancy making pancakes yourself? Check out our guide on where to eat out on Pancake Day.
Best Pancake Recipes Around the Web
Peanut Butter & Raspberry Pancakes
Another unusual pancake recipe we've come across are these Peanut Butter & Raspberry delights from AlexCrumb.com. She calls them 'pillow pancakes' and they look super fluffy. Her blog is completely plant-based so check it out!
Spinach & Strawberry Pancakes
TheMotherCooker.com has these special spinach & strawberry pancakes with 'hidden greens'. Unlike our Spinach & Halloumi Pancakes where the spinach is centre stage, her recipe gets the greens in without being obvious. Perfect for little ones who need more vegetables in their diet!
Sticky Toffee Pudding Pancakes
Yum, yum, yum and oh, so yum! Sticky Toffee Pudding Pancakes from SomethingSweetSomethingSavoury.com. Bliss!
Caramelized Banana and Hazelnut (Vegan) Pancakes 
Vegan pancakes have never tasted so good! Anna Miller's recipe on OneGreenPlanet.com shows what banana, hazelnuts and a bit of almond milk can really do!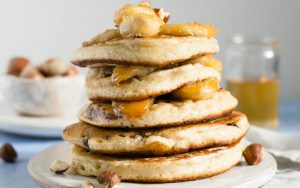 International Pancake Recipes
Scottish Lemon & Raisin
I truly believe this flavour combination could only come from Scotland. But anything with lemon curd is A+ in my book so try these Lemon & Raisin Pancakes for a sweet & sour twist on pancakes.
Nigerian Sweet Potato (Vegan) Pancakes
Tomi is a treasure! She hails from Nigeria and London is so lucky to have her. Her blog, vegannigerian.com plus her books and events bring a whole new world of flavours to the UK. These sweet potato pancakes are top quality!
Polish Apple Pancakes
LittleSunnyKitchen.com's Polish Apple Pancakes are divine. The apples are dipped in pancake batter and fried. Very different to our Spiced Apple Pancakes so give them both a try!
Russian Honey Pancakes
Chez Maximka says "Serve them hot with honey or any syrup you like (maple, agave, carob, golden) or dust with a bit of icing sugar." Yes, ma'am!
Dutch Pancakes
It is not possible to summarise international pancakes without talking about Pannenkoeken, traditional Dutch Pancakes. We highlight the Little Amsterdam Cafe in Oxfordshire in our post about where to eat out for Pancake Day because of their speciality pannenkoeken. To make pannenkoeken at home, we adore this recipe from Steven at vanDotschSpices. They sell an amazing speculass spice blend. This warming Dutch spice combination is so irresistible*. Top with VanDotsch speculaas ice cream.